Stop spending valuable time, money and resources on manual, low-level artwork changes
Do you have marketing teams, sales partners, overseas divisions, franchisees or other departments who need to make small amends to existing artworks? Brandworkz Web-to-Publish allows you and your teams to create customised on-brand marketing materials on-the-go and at a low cost.
Preconfigured, approved dynamic templates can be localised from within Brandworkz, to the tightest of deadlines, while guaranteeing brand consistency.
What you get with Brandworkz Web-to-Publish
Simple is as simple does
Brandworkz users without design skills or expensive 3rd party design software can quickly produce consistent on-brand marketing materials using templates they find in the Brandworkz system. With our intuitive WYSIWYG editor, you can customise or localise marketing artworks in minutes.
Order management of marketing materials
Brandworkz Web-to-Publish can be connected with our Ordering Widget so users can place an order for marketing materials straight after they have completed their edits.
Reduce the number of requests
Eradicate requests from your local teams for on-brand localised marketing materials and digital media, as users can create their own materials from within Brandworkz.
Every artwork counts
Brandworkz allows you to reuse artworks for banner ads, flyers, stationery and posters in multiple locations without the need to recreate the artwork.
All the options
Brandworkz Web-to-Publish is packed full of different options that allow you to customise your marketing materials to your exact requirements. For example, you can add QR codes, insert bleed or no-bleed, produce a Web-to-Web artwork or allow annotations.
Dynamic fields for dynamic marketing teams
Either you, your agency or we can tag up your Web-to-Publish template using Adobe InDesign, or build them within Brandworkz. You can then edit in real-time the text and images within the artwork.
Localise for multiple locations with one artwork
Give your local teams the ability to localise marketing materials while staying consistent with your brand guidelines. Translate your artwork into multiple languages and allow your users to change contact details all from one artwork.
Connected to your approval process
Brandworkz Web-to-Publish can be connected with our Approval Workflow module so users can submit their artwork for approval.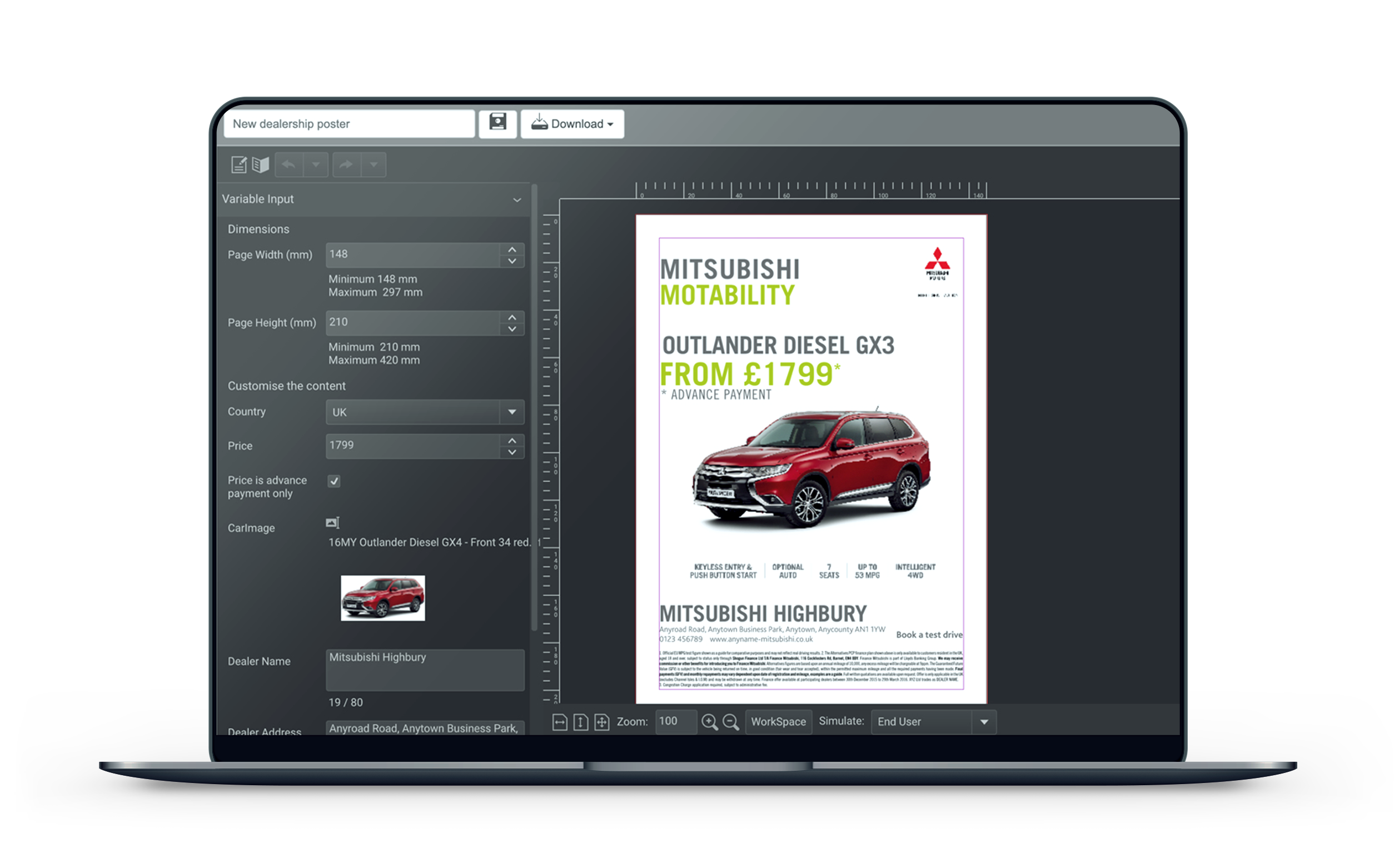 Brandworkz Brand Management Software features
Everything in one place so everyone can find the stuff they need when they need it
Streamline, track and audit your marketing production processes – however complex
Let everybody find the right logo, every time – cutting out endless, tedious logo requests
Make better decisions from insights into your brand assets, people and processes
Every Office document on-brand and up-to-date across the whole company, sounds good right?
Show people what good looks like and stop them reinventing the wheel by promoting best practice
Show people what good looks like and stop them reinventing the wheel by promoting best practice