Store, manage and share all of your digital assets from one cloud-based Digital Asset Management System
A Brandworkz digital asset management platform is a central content hub sitting at the heart of your marketing ecosystem.  Your approved, on-brand, multi-channel marketing content is centralised, managed, and distributed from one simple, intuitive, online system and drives up brand consistency.
Brandworkz digital asset management is essential for marketers struggling to control a vast volume of content. There are so many digital media channels to manage and huge volumes of marketing content to manage and distribute accurately, it is hard to ensure consistency.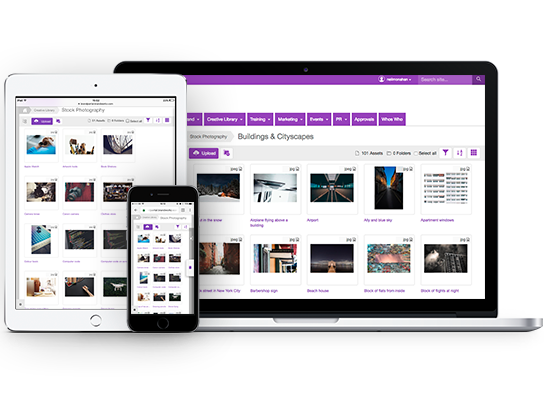 How does Brandworkz digital asset management software help?
A Brandworkz digital asset management platform is used to control, manage and distribute all your approved and on-brand digital brand assets (logos, images, videos, documents) from one central online location. Brandworkz is efficient and intuitive, streamlines the way people work and will save you time and money. It can integrate with your other software platforms and will revolutionise the way you automate content sharing to ensure brand consistency. If you would like to know more about DAM, please view our 'What is digital asset management?' page.
The benefits of Brandworkz Digital Asset Management:
No more manual admin
Marketers with DAM see an 85 per cent reduction in requests for digital assets to central marketing by external teams. So marketing can focus on strategic tasks.
Brandworkz enables faster storage, search and distribution of marketing artwork and content because teams help themselves to materials.
Brandworkz integrates with your other software platform meaning your content can be pulled directly from one central location into your CMS, social media or marketing automation platforms without needing to download first and upload into a separate system.
Re-use of marketing materials
When marketers share marketing materials or campaigns through the digital asset management system, they have a high chance of being re-used because others can find them. There's a decrease in the purchase of near-identical assets or images and far fewer artworks being unnecessarily re-created in local markets.
Protecting your brand's reputation
Avoid the risks and costs of losing brand control, such as using assets past their licence expiry date, or the risk of leaking sensitive and restricted assets. You can control what individual users can and can't see in the system with asset date-limits and log-in permissions.
Brand consistency
Guarantee consistent, on-brand verbal and visual communication externally. Everyone responsible for building your brand always has the most accurate and up-to-date materials to hand.
Research amongst Brandworkz clients reveals that brand consistency is increased by 30%.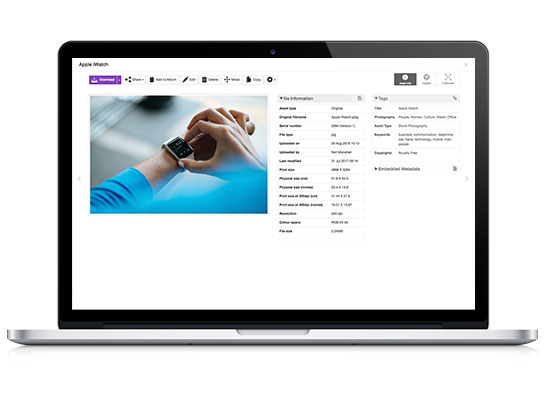 Reduce time to market
Central storage of tool kits, how-to videos and templates help to reduce time to market by as much as one month, because they can be downloaded and used instantly.
"Marketers with Digital Asset Management save 35% of their time searching servers and files for brand and marketing assets"
Brandworkz Digital Asset Management features
One Master Artwork
You need only upload one master artwork for each digital asset. Brandworkz has many download options thanks to our Image Transcoding software, giving your end users the assets they want in the format they require.
Simple Drag and Drop
Assets can be uploaded individually or in bulk. Simply drag your assets into the HTML 5 Uploader and see them appear in the system. Large numbers of files can be added via FTP. Assets that appear more than once will be de-duped and prevented from being reimported.
All Files Welcome
You can store, manage and distribute any file type you can imagine in Brandworkz, and they can be accessed and downloaded from anywhere in the world. Everything can be previewed in the system with large thumbnails.
Simple Preview
You can preview any digital files like images, videos, Office files, multi-page PDFs and creative files in your Brandworkz system, without downloading first.
Searching
Brandworkz search is super fast and intuitive which makes it easier for your users to locate the right asset. The feature offers Faceted Search with hierarchical filters, multi-select filters, suggested search and hit highlighting.
Linking Assets
You can link two assets within Brandworkz to make it easy for your users to find and download them together, saving time and reducing the amount of effort required to get hold of the right materials.
Folder Structure
You can create as many folders as you need, when you need, by yourself. You can also create new folders for upcoming campaigns, upload assets ahead of time, and control when they go live, for example when a campaign kicks off.
Effortless Sharing
Integrate Brandworkz with your CMS to push digital assets from your DAM system directly to your CMS/website. You can also share approved assets directly to social media without needing to download and re-upload first.
Tagging your assets
Brandworkz offers a flexible metadata tagging system based on the information you need to identify an asset. You can also add a 'download reason' report to learn what an asset is being used for after it has been downloaded.
Image keyword recognition
Brandworkz can scan images as they are imported and automatically generate a keyword list for you to associate with your asset.
Managing asset tagging
Basic asset information like file format, the size, pixel resolution and colour are automatically added to the asset's metadata. You can add extra meta tags and keywords as required.
Edit Images within Brandworkz
You can edit images in Brandworkz without 3rd party software. Apply a crop, edit the file type, apply a watermark and rotate an image all from within the system. Access to these tools can be controlled with Brandworkz Permissions.
Find out more about Brandworkz Digital Asset Management
Speak to a DAM expert about your needs. Find out how we can help you take control of your digital assets and leverage their value across your business.
What is Digital Asset Management?
Are you new to Digital Asset Management? Looking to upgrade your old DAM system? Or just wanting to find out more about the world of digital asset management?  Then you have come to the right place.
Here we will give you our take on digital asset management and hopefully answer some of the questions you may have.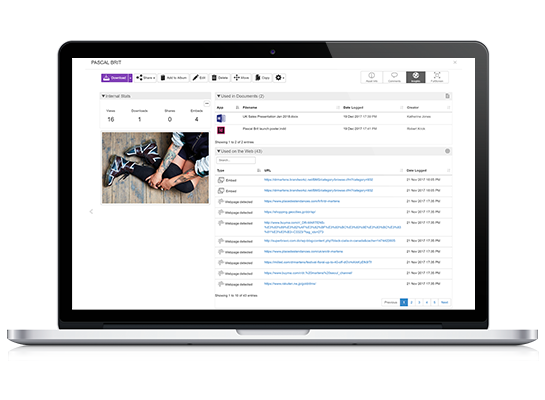 What is a digital asset?
A digital asset is basically any type of digital file. This includes but is not limited to images, video, documents, presentations and spreadsheets.
Ok, so I know what digital assets are, what about managing them?
Digital asset management is a process and a structure for managing digital assets. This is done using software that users log into and access, usually online. Overall, a DAM system should help you manage and share accurate, multi-channel content at every stage of the customer journey.
There are four core things all good DAM systems should enable users to do:
Store: easily upload digital files and content to a secure cloud-based system.
Access: search for and retrieve the files users are looking for simply and quickly.
Distribute: supply assets to other users or marketing software platforms as intuitively and seamlessly as possible.
Control: manage site structure, folders, metadata, users as well as branding and look and feel of the site.
Great, sounds useful, who would use a digital asset management system?
Anyone who uses digital files. That is a lot of people, but almost everyone within your business accesses digital files every day. That might be your design team using product shots in your latest brochure, sales teams sending a pricing sheet to a client, the HR team adding the company logo to a job spec or your IT team creating a new web page.
Wow, so digital asset management is a company-wide initiative?
Yes, your whole company can benefit from having a DAM system. Marketing is normally responsible for the implementation of a DAM system but every department will utilise it. You will find your brand consistency improves as everyone is accessing approved assets from your DAM platform.
Brand consistency? How can digital asset management help with that?
There is nothing worse than seeing your brand represented in the wrong way. We have seen some company logos treated very badly over the years. This is normally not down to maliciousness by perpetrators, it happens because they didn't know where to go to get the right logo in the right format, so they just used what they had. With a DAM system, all your users have access to the correct, on-brand digital assets that show your brand in the best light.
That makes sense, any other benefits of digital asset management?
Yes, there are loads of benefits. Brandworkz DAM has numerous features make managing your digital assets easy and intuitive. For example, we have a Version Control feature that alerts you when a new version of an asset is uploaded. So if your sales team is using a pricing sheet stored in your DAM system they will be alerted when a new version is updated and will always have the most up-to-date version.
What else should I look for in a digital asset management system?
An industry-leading DAM system will offer additional features to help manage your whole brand, not just your digital assets.  Look for a DAM system with integrated CMS brand guidelines enabling you to educate users about what your brand stands for and how to use the content, alongside the digital assets themselves. An integrated Web-to-Publish feature will allow users to customise or localise on-brand content using dynamic templates.
Alongside these features, remember to look for an on-brand UI and simple, intuitive interface for better uptake by your end users.
All sounds good but we have an internal server that works fine, why do we need digital asset management?
An internal server works as a place to put your assets but there is a number of issues that can arise:
Sharing: each department or even each team member might have their own place where they store assets, this will lead to a number of silos that the other teams are unaware of.
Access: many internal servers require you to be on the network for access, with cloud-based DAM you can get access from anywhere in the world.
Functionality: DAM systems have numerous tools that make managing your images far easier and reduce the number of resources required, servers do not have this level of functionality.
You mentioned cloud-based, what is that?
Most DAM systems, Brandworkz included, are now hosted in the cloud. This means that your digital assets are stored in servers around the world and are accessed via any web browser. The opposite of this is an 'on-premise' system which is installed in your office, this type of system is harder to deploy, harder to maintain and costs significantly more to purchase.