Brandworkz Brand Asset Management Features
Build a stronger brand in every channel with Brandworkz
With Brandworkz brand asset management software you can build a stronger more consistent brand that delivers an exceptional brand experience to all your customers no matter which channel or touchpoint. Check out the features below that make up our industry-leading brand asset management platform.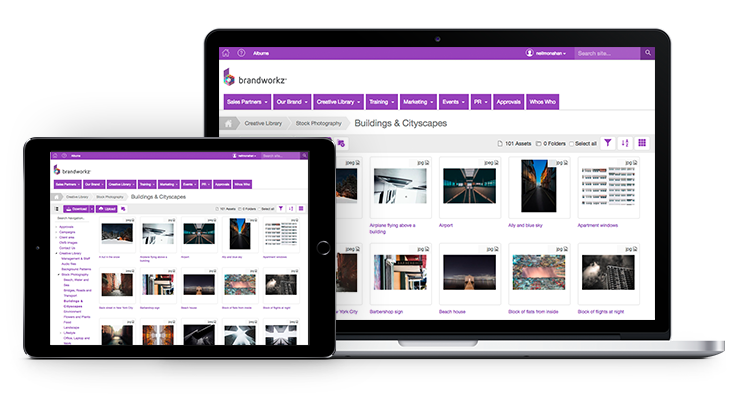 Brandworkz digital asset management is the engine of a Brandworkz brand management system, enabling you to store, manage and share all of your digital assets such as images, videos, audio files, marketing content, sales materials, promotional materials, logos, MS Office documents, and more, from one central cloud-based location.
Bought as either a stand-alone module or integrated with the many additional Brandworkz features on this page for a full brand management solution, businesses with digital asset management software strengthen brand consistency and streamline marketing processes.
Click here to see Brandworkz digital asset management features.
The software itself does everything we need it to do and more – its simple to use, but looks very impressive and makes things much easier for the end user as everything is very visual.
Get a demo of Brandworkz DAM today
Are you struggling to align your internal teams behind your brand promise? Brandworkz Guidelines & Positioning enables you to educate your internal teams about what your brand stands for. You inspire staff, agencies and external third parties about how to deliver a great brand experience.
Link your guidelines and your assets
In Brandworkz your brand guidelines can be linked directly with your digital assets. For example users can go to the system, reference how your logo should be used and then download your logo straight away.
Edit your content easily
Present your brand guidelines in easy-to-use Content Management System (CMS) pages. You can simply update your guidelines whenever you need.
Different markets, different languages
With Brandworkz your brand guidelines can be created in different languages for different markets without needing multiple changes. You make one change in one language, and Brandworkz updates all the languages, automatically.
Text, images, videos and audio all in one place
Upload any file format you like to illustrate your brand as you require. Pages can be populated with text, images, videos and audio.
Ensure everyone is referencing one single source of truth
As your brand guidelines change you the run the risk that certain users will be using out of date versions, potentially affecting your brand consistency. With your guidelines in CMS pages everyone has access to the latest guidelines and your brand stays safe.
The recent upgrade is working well and I love the fact that we can now upload huge files! The site continually receives great feedback and is such an asset for all our teams worldwide so thanks for all that you guys do!
Get a demo of Brandworkz Brand Guidelines
Web-to-Publish / Web-to-Print
Brandworkz Web-to-Publish, or Web-to-Print as it is also known, makes editing marketing materials as easy as child's play. A simple intuitive interface allows users to easily edit preconfigured, approved dynamic templates from within their browser without the need for any extra skills or 3rd party software. So you and your teams can create customised on-brand marketing materials on-the-go and at low cost.
Simple is as simple does
Brandworkz users can easily produce consistent on-brand marketing materials using templates they find in the Brandworkz system. With our intuitive WYSIWYG editor, they can customise or localise marketing artworks in minutes.
Multiple page documents
Customise multi-page documents from within one screen without the need to load up separate individual pages.
No skills needed
Your teams can create professional looking marketing materials without any illustration, artwork or design skills.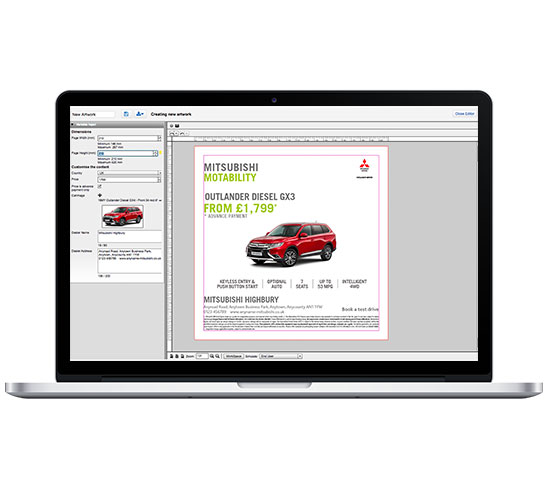 Order management of marketing materials
Brandworkz Web-to-Publish can be connected with our Ordering Widget so users can place an order for marketing materials straight after they have completed their edits.
Get your artworks approved
Brandworkz Web-to-Print can be connected with our Approval Workflow module so users can submit their artwork for approval before they can be used.
Reduce the number of requests
Eradicate requests from your local teams for on-brand localised marketing materials and digital media as users can create their own materials from within Brandworkz.
Dynamic fields for dynamic marketing teams
You or your agency tags up your Web-to-Publish / Web-to-Print template using Adobe InDesign. Text and images you define become dynamic fields in the template and can be edited in real-time.
Our people have been blown away by this system. They're very impressed by the way Brand Center is changing the way franchisees interact with the brand and use the marketing materials. We can't praise it highly enough.
Get a demo of Brandworkz Web-to-Print
Brandworkz Approval Workflow automates marketing production processes. Plan, track and approve projects at a glance; annotate artwork online; identify blockages and get out to market quicker. With Brandworkz you get a bird's eye view of marketing production, so you can optimise and streamline your whole operation.
Brandworkz Approval Workflow is tailored to your company's needs and is customised to the specific requirements of your marketing department.
Custom workflows for a custom marketing department
Whatever your business processes are, Workflows can be set up and configured to fit your specific business requirements. They can be as simple as a back-and-forth artwork approval or can be complex multi-stage, multi-branch, multi-approver processes.
Dashboard to drive your marketing team
Set up one or multiple workflow dashboards giving end-users an easy to understand, at-a-glance overview that shows the progress of individual or all workflows.
Customised email alerts
Brandworkz will send custom email alerts to selected users or groups to inform them of actions required or the status of project.
Speed
Brandworkz Approval Workflow will speed up your marketing and business processes by 80%, saving time and money. Transform your efficiency and the ability of your team to get projects delivered on time and on budget.
Annotate on any artwork
Brandworkz Workflow allows you to annotate artwork online with virtual post-it notes, and edit typos and text without any 3rd party software.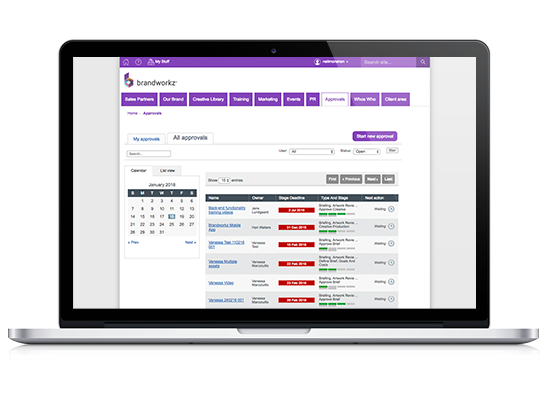 A tree with many branches
Brandworkz Approval Workflow allows you to branch your workflow at any point. For example, you can create a direct mail workflow which branches into Copywriting and Artwork branches – as these tasks are simultaneous but performed by separate people – and then join back together for the final approval stage.
Every project has deadlines
Steps within workflows can have timescales associated to them so deadlines and can be managed from within the system via interactive Gantt charts.
Brandworkz have been great to work with from the outset. The staff were supportive at every stage of the process, helping us to plan our approach and design a tool that was a perfect fit for our organisation. The Brandworkz team were invaluable when it came to integrating the site with our existing IT infrastructures.
Get a demo of Brandworkz Approval Workflow
Brandworkz Showcase is the focal point for sharing marketing activities and a place where your marketing team can learn about what their colleagues in other markets are creating. People keep in touch with each other's campaigns and ideas, increasing consistency and reducing costly duplication of work.
Share best practice
Teams are encouraged to upload their best performing campaigns or marketing activities into the Showcase section of Brandworkz, bringing campaigns under one roof.
Enhance and strengthen your brand
Brand and marketing managers across the globe to ask questions and make suggestions about how to do things better, strengthening the brand.
Get to know your team
The Who's Who feature gives you an overview of who's in which role in your different offices and some background about them, building a stronger more connected marketing team.
Stay up-to-date with all the latest assets
Get email alerts from Brandworkz about the latest assets or a new version that has been uploaded.
The Brandworkz blog
Users can use this internal team blog to share best practice, initiatives, news and views, ensuring that the latest learning permeates the whole business.
Reduce wastage
With Brandworkz Showcase you can considerably reduce production costs and lead times because the best work gets used again by different markets.
We are very happy with the platform which has been nicely manipulated to fit to our requirements as they evolve. The team provide good support and a helpful approach to getting any problems resolved. The system has always been pro-active in terms of updating technologies and user experience.
Get a demo of Brandworkz Showcase
Brandworkz Logo Finder locates the correct version of your logo every time, no matter what format or size is required, minimizing human error.
Simple decision tree
Your users answer some simple, non-technical questions like where the logo will be used, what colour it's required in and what type of background it will appear on, to lead them to the right version every time.
Permission based
If you have logos specific to a certain territory or brand, you set permission levels so users only see the logos they are allowed to use.
Save time
No more request/remind dance between designers, marketing decision makers and marketing teams. "Can you send me 'that' logo?" Everyone can self-serve.
No waiting
Your users don't have to wait for someone to respond to their logo request, removing the over-reliance on one or two members in the team to supply all logo related requests.
No guessing
Logo Finder takes the guesswork out of getting the right version, particularly if you have a complex logo structure. There may be different resolutions, formats, versions with or without a strapline, and so on.
Brand consistency
Brand consistency is strengthened because the right logo is downloaded and used every time.
Feedback has been really, really positive – our users can find exactly what they need. The usage statistics alone prove it, and the number of requests to the marketing team for materials has gone down markedly over a short period of time. We used to get up to ten inquiries or image requests every day – now it's down to fewer than five a week.
Get a demo of Brandworkz Logo Finder
See what's hot and what's not
Brandworkz reports are almost limitless and can generate the reports you need in order to understand what's happening with your brand.
Reports customised to your needs
You can customise the data you need, creating reports to analyse usage and access frequency and show who is downloading what.
Get absolute clarity
You get all the information you want on how marketing management is affecting brand consistency, governance, and operations via powerful attribution analysis.
See the fruits of your labour
Brandworkz provides an audit trail and analytics on brand and marketing activities.
Promote the best assets and content
By knowing how often each asset is used, you can see which assets work best and promote any assets that are being underutilised.
Get user reporting
See which users are logging in, when they are logging in, for how long and what they are viewing and downloading.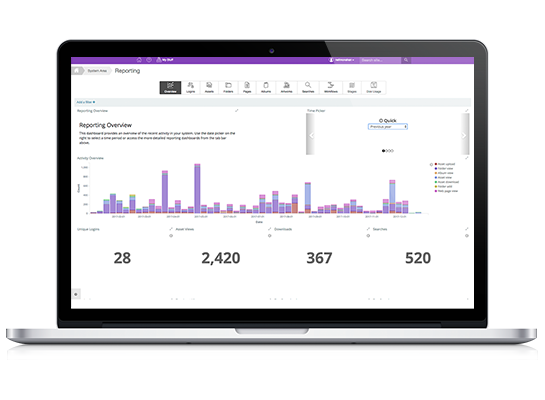 Reporting feeds back into the system
Sharing insights will help you to get maximum returns on your investment.
Visual Reporting
The data analysis is presented as coloured charts and graphs. Any information in a chart can be clicked on to drill down into the data.
Approval Workflow dashboard
With Reporting & Analysis you can see what workflows are in progress, overdue and when projects should be completed.
We won over our users as soon as we launched the Brandworkz system. People enjoy discovering the wealth of assets we have, as well as sharing their own. The system is truly a time saver.
Get a demo of Brandworkz Reporting & Analysis
Mobile Digital Asset Management
Your assets on the go
The Brandworkz mobile app makes your brand guidelines and digital assets available offline when you are out and about.
Sync with your Brandworkz desktop platform
Sync your app with the Brandworkz desktop version, select the folders and brand assets you'll need and they appear in the app, even when there's a weak or non-existent internet connection.
Present from within the app
Presentation mode allows you to view images, documents and videos at high resolution in full-screen and to swipe quickly through them, so you can present from within the app. No need to download first.
Push notifications
The app will deliver push notifications informing you when there is new or updated material that is relevant, so your content stays up-to-date.
Lightening fast search
The app's search feature is as fast and accurate as that in the Brandworkz desktop version so you'll always find what you are looking for, quickly.
Enable sales teams
If you've got sales teams who work away from their desks and need to get hold of marketing materials, they can still work efficiently and effectively.
Brand control
You'll still maintain control over who is using what, even when teams are out of the office.
We were impressed by the sheer usability of Brandworkz compared with other vendors. The interface is modern and up to date and Brandworkz also had many other features we were looking for.
Get a demo of Brandworkz Mobile DAM
MS Office Document Management
Across your business, staff are creating Word, Excel, PowerPoint and many other documents every day. But how consistent are they in tone, look and feel, and do they accurately represent your brand? Brandworkz MS Office integration powered by Templafy helps ensure that every document created by your staff is accurate and on-brand. Your staff get their document templates, approved content and images directly to where they work in their office applications.
Increased productivity
Save time and money by making it more productive for all your staff to get hold of and use on-brand business documents and approved content. Presentations, proposals, pricing sheets or business letters no longer need to be written from scratch. Employees use approved templates and save huge amounts of time.
Put images in your MS Office documents direct from Brandworkz
When you create documents, you can use approved images from Brandworkz directly from within your MS Office template via the Templafy integration. No need to download the image first and re-upload into your document.  There's greater control and more efficient working.
Images are resized automatically
Images pulled into your MS Office documents from Brandworkz are automatically resized. They appear in the right shape, size and resolution for your template, giving you high quality and professional looking documents every time.
Always up-to-date
Brands change and documents are constantly being updated. With our Office Integration, it is easy to update templates and distribute to all your users. Employees will be alerted when changes are made to document templates, even when the template is saved on their desktop.
Full permissions
Apply Brandworkz permissions to templates so that employees only see and access the documents that are relevant to them. They no longer need to search through multiple templates and different versions to find what they are looking for.
On-brand and compliant
Our Office Integration features built-in compliance checks to ensure that the document adheres to brand and template guidelines. Administrators can make updates in real time, ensuring that employees have access to the most up-to-date approved content. 
Dynamically populate content
Documents are dynamically populated with each employee's personal and company details, saving time and ensuring compliance with the latest company standards and branding.
See who is using what
Full reporting on which templates and content is most used so you can understand the needs of your users and prioritise that type of material.
We have seen many major benefits after integrating Brandworkz into our MarTech stack. We share our brand assets with several international partners and by giving them access to Brandworkz, we have greatly reduced the amount of time and resources needed to manage these requests.
Get a demo of MS Office Document Management