Brandworkz 7.0.2 Release Notes
Note that Brandworkz have received feedback from clients across the world that the monthly release cycles are too frequent and that they'd prefer less frequent releases. To that end, and in line with our "Client Focus" value Brandworkz will be moving to releasing new versions of Brandworkz every 2 to 3 months.
Here are the highlights of the new release:
Artificial Intelligence (AI)-based automatic image recognition and keyword suggestion – This exciting new feature will analyse and "understand" the content of uploaded images and provide suggested keywords for an admin to select and insert into its metadata, to speed up this admin task. See more details below.
Asset Alerting improvements – We've finished phase 2 of our asset alerting project which makes this feature more flexible. If you aren't familiar with this great new feature, it's for the automated email notification to your user base on new/modified/expiring assets. This is a very effective tool to internally promote your system by showing your great new brand/marketing assets, as well as ensuring that end-users know about new versions to assets they have previously deleted. See more below. If you are interested in setting this up, please speak to us and we will configure it for you.
Image processing improvements – Over the past months we've been improving the way in which images are processed, from thumbnails, previews to transcoding. We have now reached the end of this process! This work will allow us to scale more effectively and be future ready for things such as 4k and 8k videos, massive 1GB PSD files, etc. as well as being able to generate thumbnails faster and more reliably without having a negative impact on the rest of the system. These scalability enhancements will reach their final fruition when we move our hosting to Amazon Web Services, as this will enable us to scale server resources dynamically (see more below).
Improvements to zipping on download – This has been significantly speeded up, and will now also retain virtually every single character under the sun – i.e. if an asset e.g. has commas, curly quotes, Russian characters, etc in it, they will correctly be preserved inside the generated Zip file.
Lots of bug-fixes
New Feature: AI-based automatic image recognition and keyword suggestion
One of the bottlenecks that many administrators of Brandworkz digital asset management have is the ungrateful admin task of inputting keywords and metadata against images. Brandworkz aims to help with this by the introduction of a new feature we call Artificial Intelligence Image Recognition (or AI Image Recognition). This allows Brandworkz to analyse an image that is uploaded and provide the admin with a list of suggested keywords. This achieves around 80-90% accuracy compared to a human, so will save the admin time.
These suggested keywords are shown in the form of circles for the admin to verify and select/deselect. The size of the circle represents how confident the system is on each keyword (see screenshots below).
The system works best for "lifestyle" imagery as it currently doesn't detect place names, brand names, products and faces. Face training and face recognition is on the cards for Q4 for automatic tagging of people's names in e.g. shots from events. We are also planning "product training" where you can train it in recognising your product range.
Note that in this initial release, the insertion of these auto-suggested keywords is a manual task for each asset, but as we gain more experience with the power and accuracy of the system as well as feedback from you, we are planning to introduce more automated options – e.g. one-click auto-keywording of an entire section of your existing library, etc.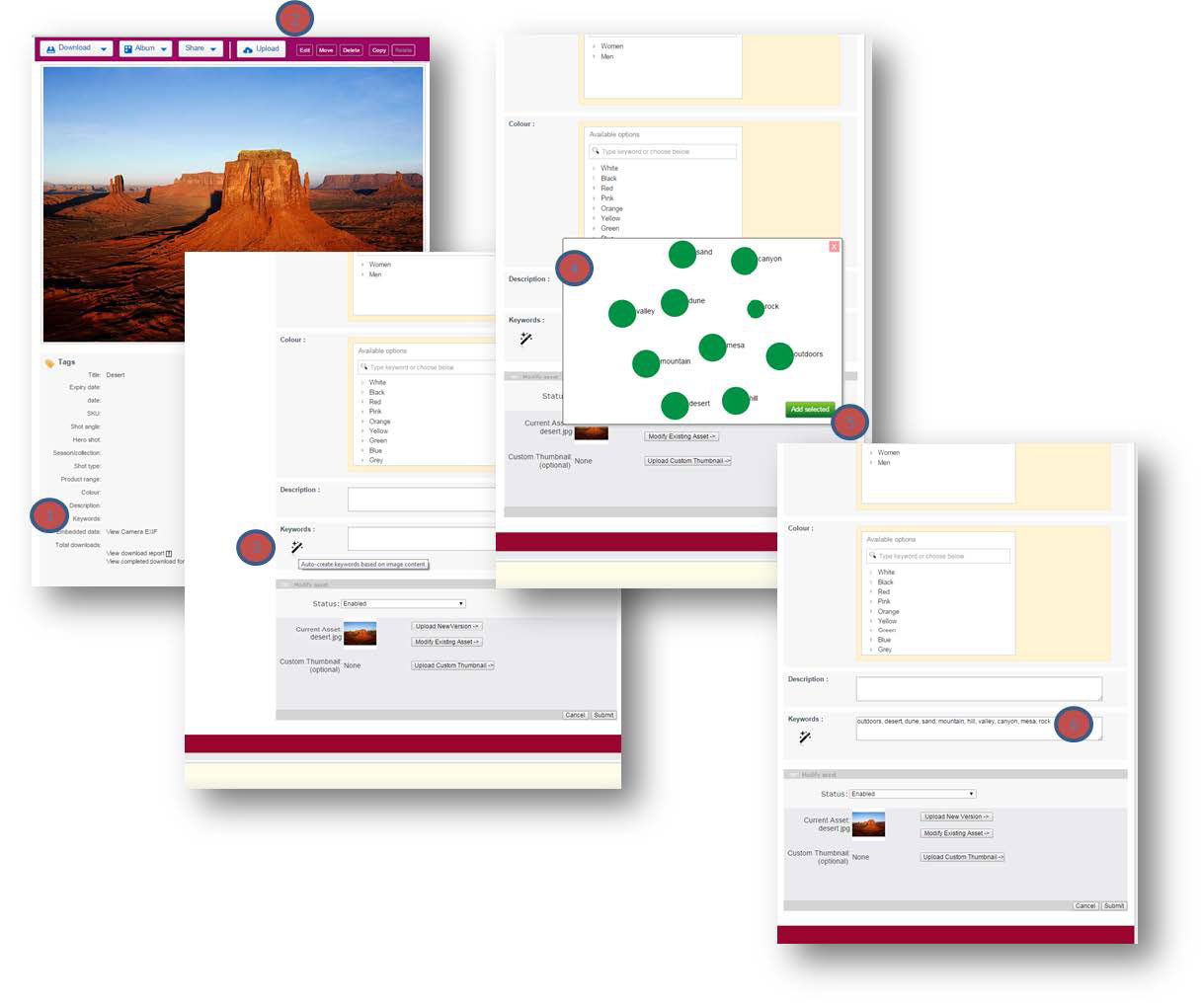 How to use AI Image Recognition:
As a prerequisite, you must have a metadata field called exactly "Keywords". If you don't have a field like this and want to use this feature please contact our Support who will set it up for you.
As an admin, select an asset.
Click on "Edit".
Scroll down to where you see the "magic wand" icon next to the "keywords" field and click it.
The system analysis's the image and shows the user some suggestions. By clicking on the bubbles the admin can de-select any words they think are inappropriate.
Once the administrator is happy with the list of words click "Add Selected".
The words are added to the Keywords field.
Fill in any other fields manually and hit Submit.
Improvements to Asset Alerting
Asset Alerting was released in the previous version of Brandworkz and in its phased introduction Brandworkz has release the latest suite of functionality for this great feature. There are now these additional config options:
Assets that have expired can be automatically disabled from being downloaded.
When assets are updated with a new version or are expiring, then the original uploader and all sys-admins will now be notified (previously just users who had downloaded these assets).
Assets within a workflow but haven't been approved are excluded from the alerts.
Alerts can now be sent to only pre-defined user groups.
This last new option gives you the ability to test Asset Alerting with just a small group of people, as you can simply limit the asset alerts to only go to e.g. the "Administrators" group so you can gain experience with the feature without sending out emails to your entire user base.
What's coming in the upcoming releases
Hosting migration – We are quickly moving towards migrating our platform – including your site – onto Amazon Web Services (AWS). This will bring major benefits in terms of stability, disaster recovery, and scalability. For instance, if you as a client have a large batch-upload of 1000 HD videos on a specific day, the system will automatically put more transcoding servers into use on that day to process the glut of video transcodes and thumbnails needed. If you aren't familiar with Amazon as a hosting provider, they are now the largest web-hosting provider in the world. In fact they are now larger than the next four largest hosting providers combined!
New User Interface – We are hard at work implementing our brand new UI for the DAM module, providing drag-and-drop, right-clicking, mobile-optimisation, etc. However, this is a large task and the ETA for this is currently the beginning of Q4.
New Dynamic Templating/Web-to-Publish engine – We are completely overhauling the engine for our Web-to-Publish module, with the ETA of this being the beginning of Q4. This will for instance provide: Super-fast preview updates when editing, auto-scaling of text if end-user types more characters than the box will hold, non-proportional resizing, output of static banner-ad formats, and much more.