Brandworkz 8.1 Release Notes
With integrations on the rise, it has become even more important to understand how your assets are being used. So, this release focuses on providing better asset visibility and business intelligence. As part of this we have redesigned our asset detail popup to be more insightful and rebuilt our reporting module so you can understand how your assets are being used both within Brandworkz and out in the world.
New Features
NEW – Full Screen Asset Popup
The asset detail popup has been redesigned to utilise the full screen and present more information in a single area.
We have used the extra space created by the redesign to introduce several new features and functionalities, such as asset commenting and insights. Furthermore, we have added more keyboard shortcuts and tab persistence for better navigation through your assets.
Key Features
Responsive layout for a more elegant presentation of asset detail across all devices from mobile up to wide desktop resolutions.

Comments tab for users to add comments/annotations to images and multi-page documents.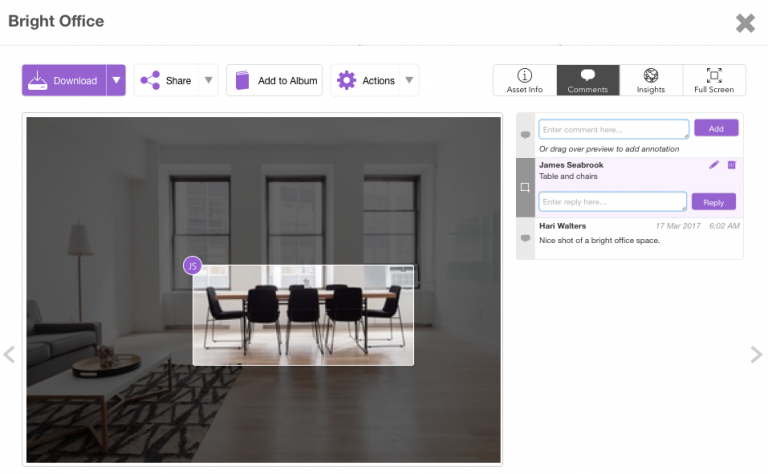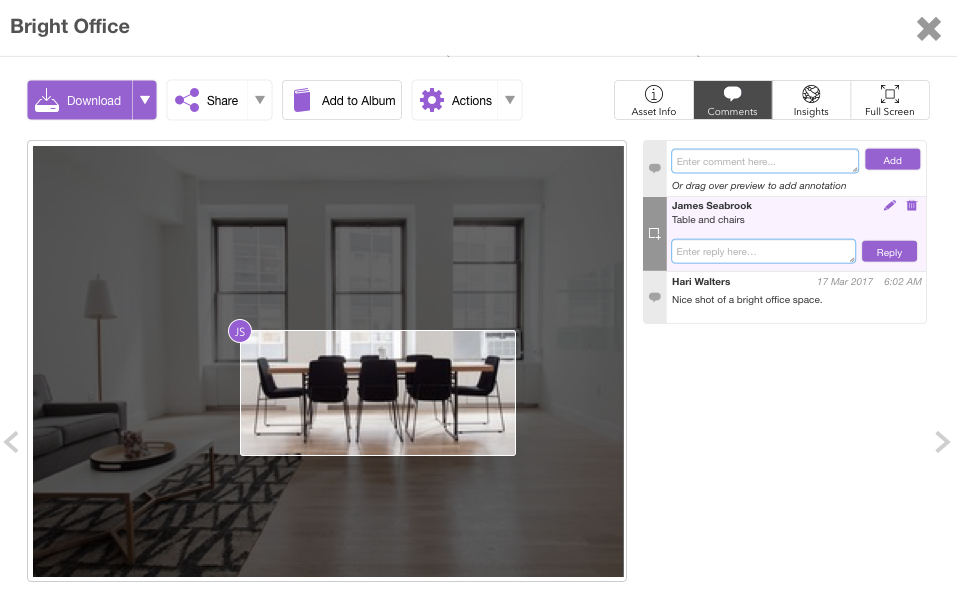 Note that the ad-hoc commenting feature isn't enabled by default. To enable this for the user groups you deem appropriate to have this feature enabled, please go to System Preferences > "Interface Options" >  "Asset preview commenting groups", and add the relevant groups.
NEW – Brandworkz Insights
The Brandworkz Insights tab allows system administrators to see how their assets are being used within Brandworkz, in your documents and externally on the web.
Key Features:
Ability to see internal statistics highlighting how many times the asset has been viewed, downloaded, shared or embedded.
Ability to see where assets have been used in documents via integrations with InDesign, Photoshop, Illustrator, Word, PowerPoint and Outlook.
Ability to drill down into detailed asset reports which show the activity related to assets (see Reporting Dashboards).
Ability to see where assets have been used on the web via embed links generated from Brandworkz and auto web image detection where Brandworkz will scour the internet for usages of a particular image, even if it hasn't been embedded in a web-page via Brandworkz. This can be useful in a number of ways, for instance:

Your SEO manager may discover new websites using your images and they be willing to give you backlinks.
You may have an image that you need to stop using so need to find out which websites it is being used on.
There could be misuse of your images where it is used in an off-brand context or even illegally.
If you have an updated image or logo, you can see where it's being used and contact the site owner to have it updated.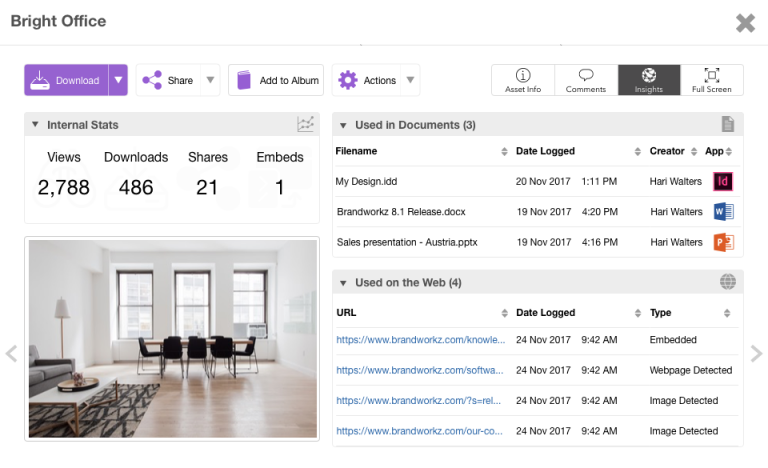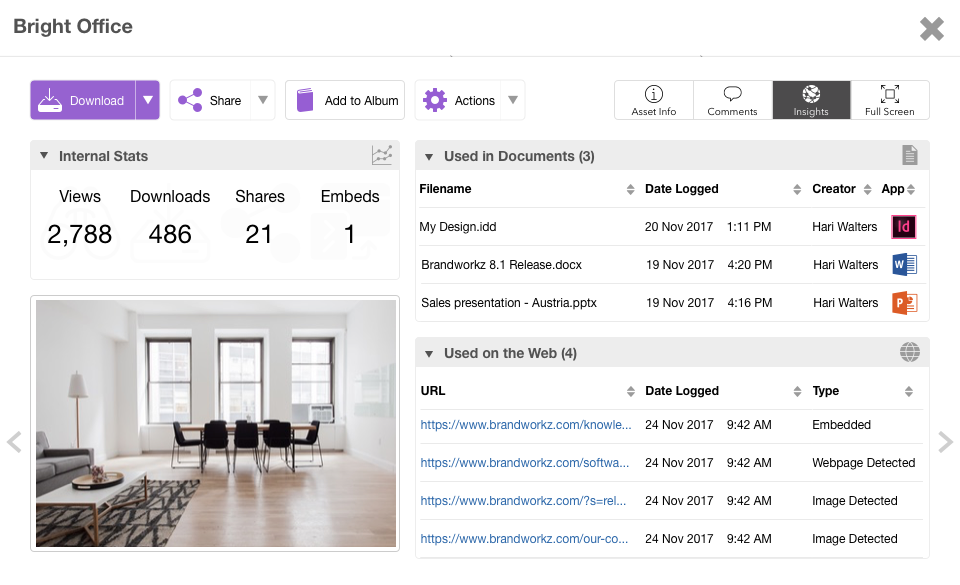 NEW – Reporting Dashboards
The Brandworkz reporting module has been rebuilt from ground up so information on all areas of the system is presented in a meaningful and visual way. The introduction of the reporting dashboards allows system administrators to quickly visualise and interact with their data to get a better understanding of how the system is performing and how it is being used. All data presented is interactive so you can click on any part of the charts to filter down, drag over timelines to filter time span, etc. Click away to explore your data!
Key features:

Interactive visualizations to analyse the information at a glance and drill down into various aspects of the data.

Map charts to visualise where your system is being accessed from.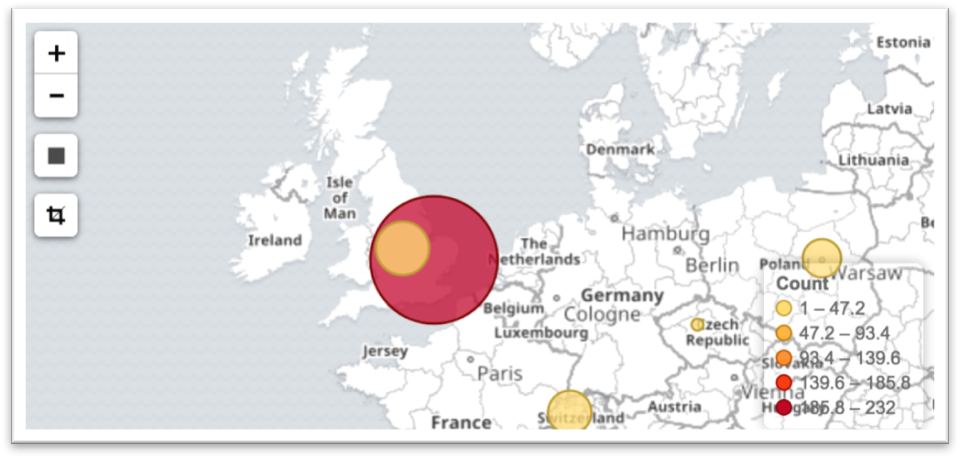 Date/time filters on all dashboards to quickly locate information within defined time periods.
CSV export for sharing or viewing reporting data in MS Excel.
NEW – My Stuff Area
The new My Stuff Area allows users to quickly and securely access their saved albums, searches, uploads and Web-to-Publish artworks.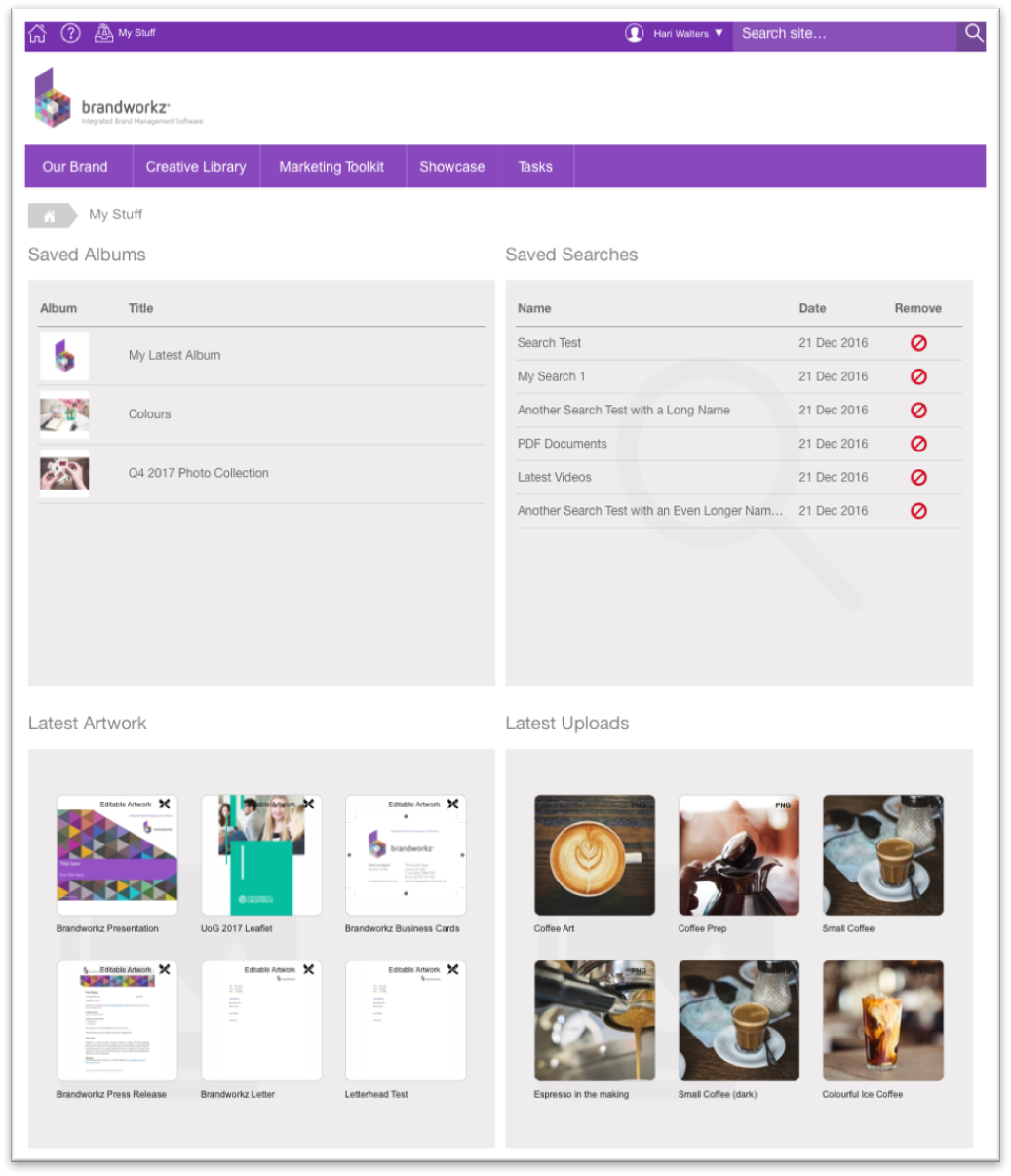 NEW – E-commerce Embed Link
The e-commerce link functionality allows you to dynamically embed assets in external systems such as your e-commerce website or product-focused CMS.
Key features:
Ability to generate dynamic embed links based on matching metadata such as SKU, angle and colour.
Images are served via a Content Delivery Network (CDN) for improved performance and reliability.
NEW – Workflow Diagram View      
The new diagram tab in the Workflow Stage View allows you to visualise your current progress through the workflow.
Integrations
Adobe CC Connector
A powerful Adobe Creative Cloud extension allows your Brandworkz assets to be directly linked within InDesign, Photoshop, and Illustrator documents.
Key features:
Search and browse for Brandworkz assets within the Adobe CC extension.
Drag-and-drop Brandworkz assets into InDesign, Photoshop, and Illustrator.
Access your shared album assets within Adobe CC.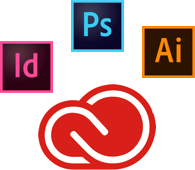 * Please contact Brandworkz Support for more details regarding the Adobe CC Connector.
More integrations such as our "MS Office Document Management" module can be found on our Integrations page.
Bug Fixes and Improvements
DAM
Ability to the set number of assets per page and paginate accordingly
Search
Ability to search for W2P templates
Ability to search and filter on disabled assets
Ability for all users to save searches
Workflow
Ability to view stage completion dates (instead of stage initialisation dates)
API
More search filters
Preview retrieval
More download options
More information on our API can be found on https://apidocs.brandworkz.com/.
Additional improvements