The case for clear, consistent brand identity
Founded in Japan over a century ago, Brother is a globally recognised innovative technology brand. The company now has operations in 44 countries and its products are sold in more than 100 countries worldwide. Brother products include printers, all-in-one printer devices, fax machines and labelling machines. New products for an increasingly digital and smart technology era include mobile print solutions and OmniJoin HD web conferencing software.
Artworks Created per Year
Consistent with such a distinguished tradition of technological evolution, when Brother recognised the growing complexity of its global marketing needs, the company set about building a Web-to-Publish system designed to serve its worldwide network of offices with customisable marketing materials. Initially unaware that ready-made solutions were available, Brother teamed with external consultants for this software development task.
However, the project proved more technically demanding, time-consuming and expensive than anticipated. More cogently, it became clear that, to work at maximum potential, the Web-to-Publish system would need to be integrated with a digital asset management capability. So it was that the Brother team went in search of an off-the-shelf Digital Asset Management system.
Brother International Europe's Product Communications Manager, Jackie Farrelly, was quick to spot the possibilities when she considered the Brandworkz proposition.
'It was obvious from the start that they were friendly, uncomplicated and able to communicate with marketing people in open, non-technical language,' she says. More attractive still was Brandworkz's ability to deliver Digital Asset Management plus Web-to-Publish too as an integrated system, fronted by a simple and easily accessible interface.
After experiencing the self-build project, Brother was confident to choose this ready-made Brandworkz solution because it so obviously offered everything the company sought. Marketing and sales information was accessible and easy to understand, the interface was intuitive and the sales process was facilitated smoothly. And the smooth implementation process lived up to the Brandworkz promise too. Says Jackie, 'Brandworkz was very good at advising on what we needed; we felt we were guided through the process well.'
With the Brandworkz platform now firmly in business, Brother's marketers have centralised all new and existing brand guidelines, photography, campaigns, artwork and other marketing materials. External creative agencies are also empowered to access and download materials they need without going via the marketing team, which frees up their time.
Upwards of 400 people in the business are already using the system. Local offices and their agencies, as well as sales and technical teams within the global group, can all access brand positioning information, marketing materials and technical specs from the system – round the clock and without involving central marketing.
Brandworkz is integrating Brother's platform with its local websites across Europe, so dealers will be able to access and download product imagery via a closed area in those sites.
'Time saved by head office distributing images to dealers will be huge,' reckons Jackie. She also reports gratifyingly positive feedback from the regional offices about the system, particularly with reference to its ease of use.
Having launched with their Brand Asset Management system, Brother are now getting Brandworkz Web-to-Publish implemented on their platform in order to make frequently-used marketing artworks available to local offices to customise.
In addition, thanks to the Showcase feature, other offices can now reuse campaigns run in other locations. For example, the UK office created and paid for a campaign for its scanner products. Other offices wanted to use it too, giving the campaign bonus value beyond one market and limiting the need for similar work to be recreated and paid for again. Each market is encouraged to upload its best work to the Showcase to be shared and reused.
Though it's still early days, Jackie is confident that basic arithmetic is already proving the potency of the Brandworkz system. 'Put simply,' she says, 'there's no need for every office to go off and do its own campaigns any more. Why pay three or more times when you can pay once? I think Brandworkz is a great system, both from an admin and user point of view.'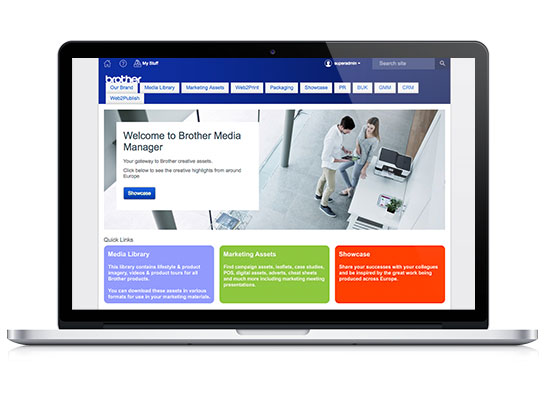 "Brandworkz was very good at advising on what we needed; we felt we were guided through the process well."
Jackie Farrelly, European Product Communications Manager at Brother