Regain control and improve brand consistency with Brand Management Software
Your brand is made up of many different elements that fuse together to form your overall brand identity. This can be a complex arrangement. Brandworkz is here to simplify and streamline the management of your brand.
Our Brand Management Software gives marketers everything they need to deliver a consistent brand experience, streamline their marketing operations, and build overall brand value.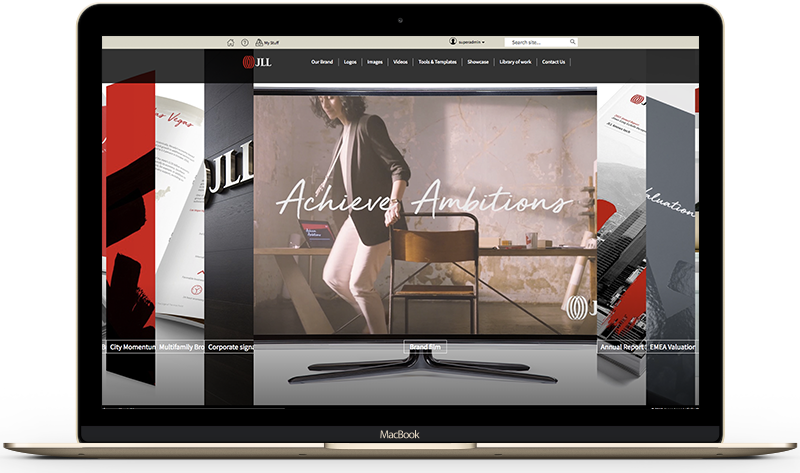 Brandworkz Brand Management Software features
And you can integrate Brandworkz with your entire MarTech stack
Break down the digital asset silos!
Brandworkz is the single source of truth for all of your company's brand and marketing assets. With our API and integrations you can use all of your digital assets wherever they are needed in your MarTech stack without the need to download and reupload, as well as issues with old versions and expired files.
Want to see more? Get a quick two minute overview below
The benefits of Brandworkz Brand Asset Management Software
Having a consistent, differentiated brand is a no-brainer for marketers, but implementing this in the real world can of course be like herding cats, gazelles, and wildebeest all at the same time – you may even have a couple of grizzlies in your organisation.
Here are some of the benefits that you can enjoy by implementing Brandworkz. Also, don't just take our word for it, check out what some of our clients are saying.
#1 Controlling brand consistency
Nobody sets out to portray your brand in an inconsistent way, but sometimes they do not have access to the correct brand materials or the education about how the brand should be used and represented. Creating a home for your brand will give you more control and will increase brand consistency and visibility.
The Brandworkz brand management platform has helped us strengthen brand consistency, create an engaging customer experience, align and educate employees and build a strong corporate brand.
#2 Inspiring best practice
Inspire your brand and marketing teams by showing them what great looks like. By showcasing the best campaigns and content that has been created you will maximise their value and amplify their success. By encouraging their reuse you will reduce duplication and raise the overall standard of your marketing output.
We are seeing significant time-saving, improved access for everyone and better sharing of assets between the HQs.
#3 Compelling Compliance
When people hear about compliance they normally worry it will add a huge amount of time and work to their project, but with Brandworkz you can actually get to market quicker safe in the knowledge that all the compliance boxes are ticked and being recorded. No matter how complex your business processes Brandworkz can be tailored to your requirements.
With Brandworkz, the chance of user error in marketing production approval is hugely reduced and the time and effort required to gain approval for documents in what is a heavily regulated industry has also been minimised.
#4 Spend more time on the stuff that matters
There is only so much time in the working day, what should you and your team be spending it on? It should't be spent on fielding requests for assets, creatives making small edits to artworks or chasing compliance approval across the business. Time should be spent creating kick ass content that your customers want and building your brand.
We share our brand assets with several international partners and by giving them access to Brandworkz, we have greatly reduced the amount of time and resources needed to manage these requests.
#5 Grow your brand and business value
If you want to increase your brand value then you must focus on building it's trust and integrity. If you have an inconsistent brand then it is more difficult for your customers to maintain trust in it. Provide your employees and partners with the tools and materials they need to deliver quality consistent brand experiences and watch your brand value and business value soar.
Much more than a logo, our brand describes who we are. Naturally then, we must do everything we can to drive home our understanding of this concept. The fact that the brand site is such an important part of that effort is evidence not only of Brandworkz's deep understanding of the role of online resources in strategic brand management.