Store, manage, and share all of your digital assets
Upgrade your brand management with a Brandworkz digital asset management platform.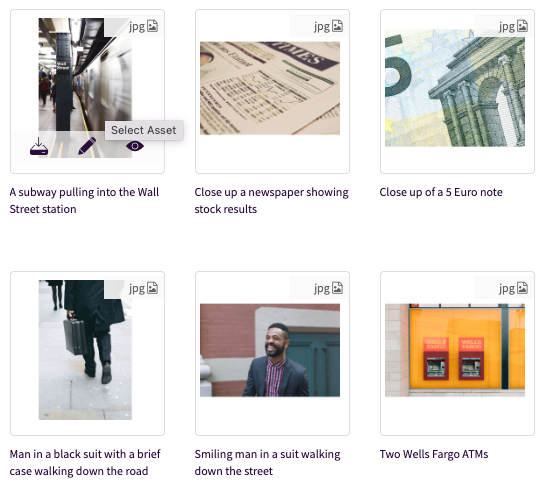 Control the content that makes up your brand
Brandworkz digital asset management is essential for marketers struggling to control a vast volume of content. It enables you to maintain consistency across multiple digital media channels and accurately manage and distribute your large quantities of marketing content.
What is digital asset management?
Digital asset management (DAM) is a platform where you can upload your brand and marketing assets — think, images, videos, etc. — so that they're centralised, managed, and distributed from one simple, intuitive, online system to optimise processes and insights. 
Digital asset management keeps your content secure and your processes streamlined so that your strategies can run at full efficiency. Find out what your DAM is missing.
What digital asset management solves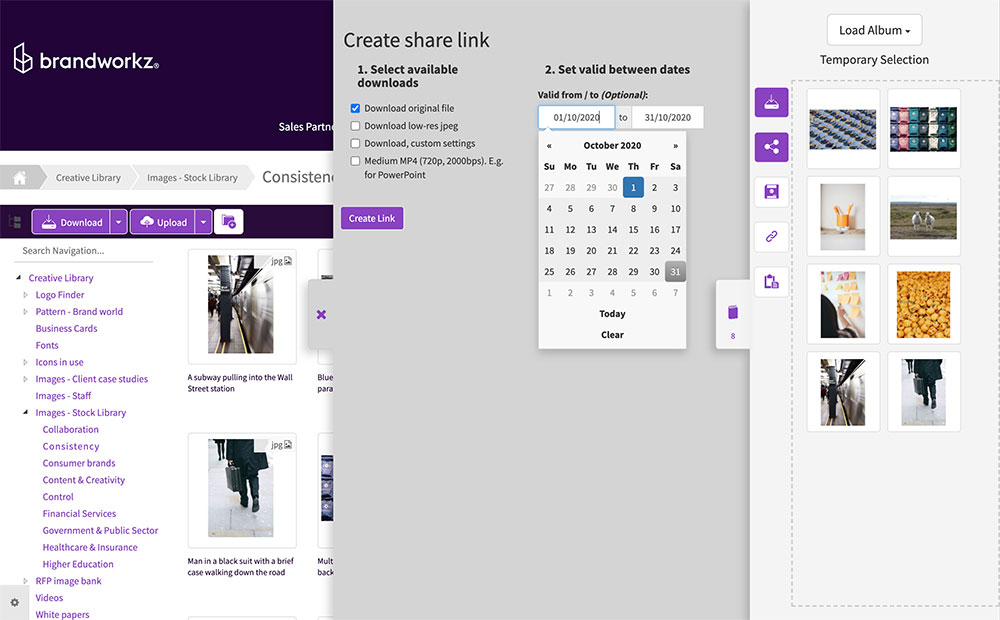 A DAM centralises all of your assets so that they're easy to find and capable of being accessed by multiple people, all without sacrificing security or structure. Our research has found that improving access capabilities can save an organisation up to 724 work hours a year. That's a lot of time better spent elsewhere
The unifying factor of DAM streamlines communication and collaboration on assets. Eliminate the time lost on looking for assets and having wires crossed by having everyone on the same page, in the same system.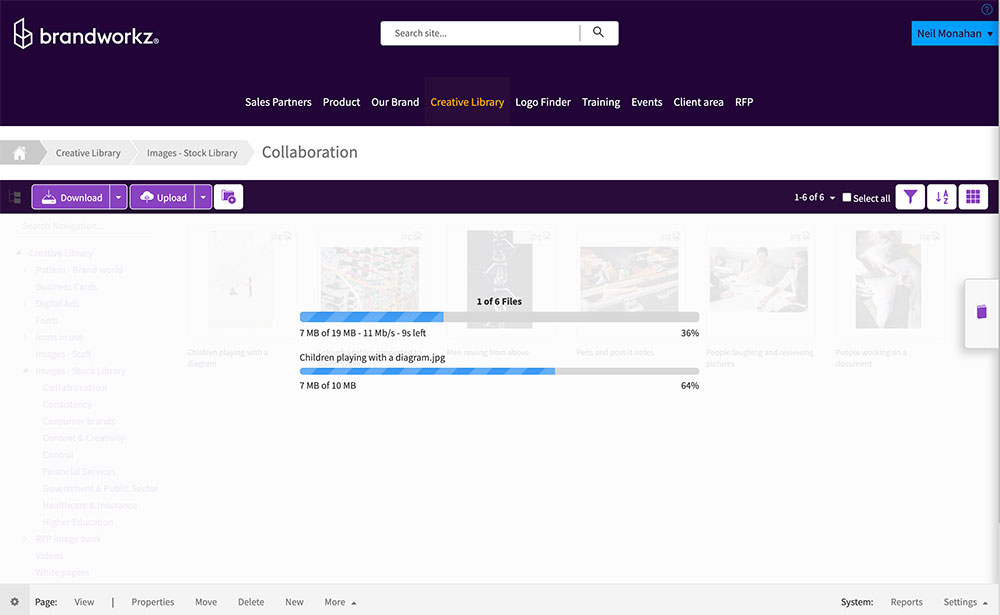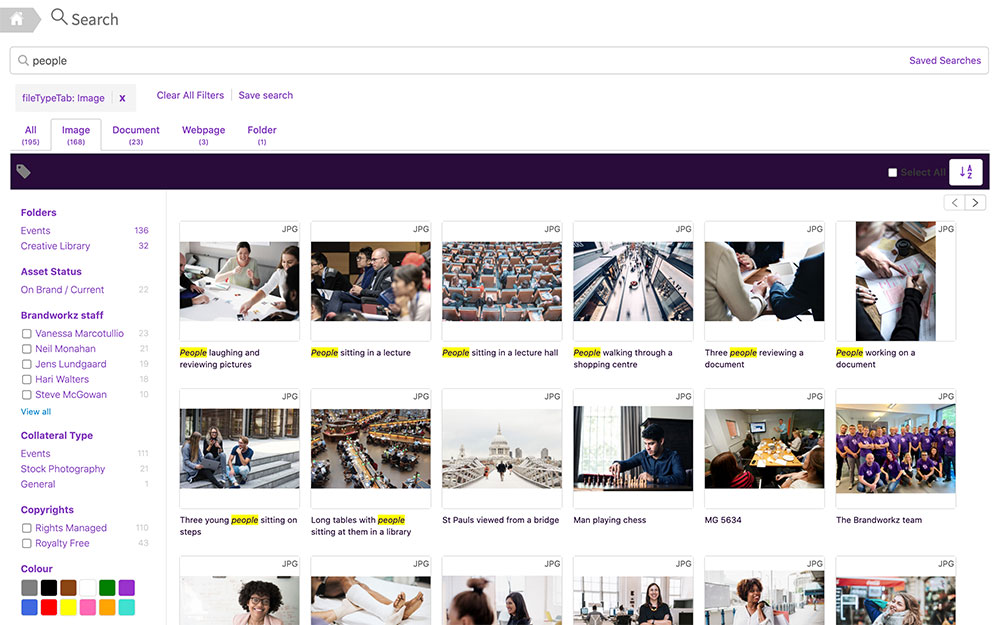 The confusion of dealing with multiple scattered assets often leads to branding and marketing strategies becoming inconsistent and, ultimately, ineffective. A DAM makes sure that your assets are organised and easily located based on their functions, bringing consistency back to your delivery.
What Brandworkz Digital Asset Management does for you
Gives you control over your assets
Never lose sight of your all-important assets and how they're managed.
Store your assets securely with an ISO-27001 certified vendor.

Our Download Wizards convert any file you want into any format you need with the click of a mouse.

Control who has access to which Download Wizards with our industry-leading permissions functionality.

High-speed file transfers download your files in seconds no matter where you are in the world.

Preview any file within Brandworkz before you download to make sure you have what you want.
Enables better sharing and access
Effortlessly share files securely with both internal teams and external partners so that communication is streamlined and efficient.
Group assets in temporary albums and share them with users outside the system.

Email albums out directly from the system or create a unique sharing link.

Set embargo and expiry dates to control when users can access files.

Control download options, so users only get the file version you want.

Full reporting on when and what users download.

Save temporary albums to your account for reuse.
Makes searching simple
Find what you are looking for or discover new content quickly and easily with our powerful and intuitive search functionality.
Faceted Search similar to many popular e-commerce sites to drill down to your requirements.

Automatic colour search powered by AI to find images in a colour you require.

Suggested Search that corrects spelling mistakes and suggests popular assets.

Full reporting on most common searches, popular content, zero result search terms and many more.

Hit highlighting to make it easier to find what you are looking for on the search results page.
Takes advantage of metadata
Our DAM System makes metadata management child's play.
Fully customisable tagging system tailored around the information you need to identify.

Download Reason Reporting gains extra insights on asset use and ensures users are aware of the terms of use.

Automatic extraction and storage of file information to power search.

AI-powered keyword generation based on image contents.

Enforced metadata at upload to avoid assets with no data being uploaded.
Effortlessly populates data 
Add to your Digital Asset Management system quickly with Brandworkz new super-fast uploader.
Upload files and folder structure straight from your desktop or file storage system to build your system in minutes.

Build a custom folder structure to meet your needs and how you work.

Control access to who can upload with Brandworkz Permissions.

Run your uploads through a Brandworkz Workflow to approve new content before it is available for download.

Brandworkz onboarding team can guide you through the process and provide you with best-practice feedback.
Brandworkz Brand Management Software features
Track, audit and approve new assets with the same tool you use to store and access those files. Streamline workflows and improve consistency.
Let everyone find the right logo, every time with the click of a button. Cut out endless and tedious requests while ensuring consistency.
Make sure everyone's on the same page with editable brand guidelines integrated directly with your DAM and approval workflow tools.
Get updates on your most used assets, when assets need to be reviewed, and how users are accessing your system.
Show your people what good looks like and stop them reinventing the wheel by promoting best practice.
Bonjour, ¡Hola, 你好. Operating in or expanding your brand to overseas markets? Make them feel welcome.
Brandworkz industry-leading security features keep your valuable brand assets safe.
Save time and improve consistency with DAM
Centralise, manage, search, distribute.
Explore our advanced DAM for yourself with a short demo. Fill in the form today to: 
See how our DAM works in practice with real-world examples from some of our clients.

Find out how our DAM works with our BMS capabilities to take your brand strategies forward.

Get advice on the best solutions for your needs.
All with no agenda and no obligation.