Store, manage and share all of your digital assets from one cloud-based Digital Asset Management System
A Brandworkz digital asset management platform is a central content hub sitting at the heart of your marketing ecosystem. Your approved, on-brand, multi-channel marketing content is centralised, managed, and distributed from one simple, intuitive, online system and drives up brand consistency.
Brandworkz digital asset management is essential for marketers struggling to control a vast volume of content. With so many digital media channels to manage and vast quantities of marketing content to manage and distribute accurately, it is hard to ensure consistency.
What you get with Brandworkz Digital Asset Management
No more manual admin
Marketers with DAM see an 85 per cent reduction in requests for digital assets to central marketing by external teams. So marketing can focus on strategic tasks.
Brandworkz enables safer storage, faster search and smarter distribution of marketing artwork and content because teams help themselves to the content they need.
Brandworkz integrates with your other marketing software platforms meaning your content can be pulled directly from one central location into your Content Management System, social media or marketing automation platforms without needing to download first and upload into a separate system.
Re-use of marketing materials
Creating high-value content that your customers want and need is essential for every business in the digital age, but it does not come cheap. Duplicating content is a waste of time, money and resources.
When marketers store and share their marketing materials or campaigns through in a digital asset management system that everyone can access, there is a higher chance of re-use of the most successful content. There is also a decrease in the purchase of near-identical assets or images and far less unnecessarily re-creation of artworks in local markets.
Preserving your brand's reputation
The costs of using unlicensed images and videos can drain your marketing budget of valuable resources. If you are in a regulated industry, using content that does not adhere to the rules could damage the image of your brand and even threaten the survival of your business.
Avoid the risks and costs of losing brand control, such as using assets past their licence expiry date, or the threat of leaking sensitive and restricted assets by controlling access to only approved materials with granular permissions and auto expiry in Brandworkz Digital Asset Management. You can manage what individual users can and can't see in the system with asset date-limits and log-in permissions.
Brand consistency
Everyone within your business is responsible for building your brand! To help them do their job, they must always have access to the most accurate and up-to-date content. Research amongst Brandworkz clients reveals that brand consistency is increased by 30%.
Guarantee consistent, on-brand verbal and visual communication internally and externally by making Brandworkz the go-to place for all your marketing and brand content.
Get your campaigns created and out to market quicker.
With the creation of more and more digital content, excessive time is being wasted searching for and sharing that content.
Central storage of the assets, design guidelines and raw materials your designers and artworkers need to access while creating new marketing materials speeds up the creation process and gets your campaigns live quicker.
One Master Artwork
Many of your images and videos are used in multiple different ways depending on the medium. The high-res image in your company brochure may also be needed as a thumbnail for social media, a low-res JPEG for a PowerPoint presentation and as a cropped image for your website. That is four versions of just one picture, now multiple that by every image in your library. Digital asset anarchy!
With Brandworkz, you need only upload one master artwork for each digital asset. Brandworkz has many download options thanks to our powerful Image Transcoding software, giving your end-users the assets they want in the format they require.
Simple Drag and Drop
Assets can be uploaded individually or in bulk within Brandworkz. You can drag your assets into the HTML 5 Uploader and see them appear in the system within seconds.
If you are uploading a large video or design files, you can leverage our high-speed file transfer system which is powered by IBM Aspera. With Aspera, you can upload a 10GB file in under 90 seconds.
All Files Welcome
All your team's files will find a home in Brandworkz. From PSD and AI design files right through to MP4 and PNG campaign ready content, every type of assets can be stored, managed and distributed from Brandworkz Digital Asset Management.
Brandworkz permissions control the access that your users have to content and the downloading options that are available.
Simple Preview
With Brandworkz Digital Asset Management, you and your team can preview any digital file within the system. You can view images, videos, Office files, multi-page PDFs and creative files without the need to download.
Searching
Powerful and intuitive search functionality within your Digital Asset Management system is the most important feature and can determine the success or failure of your portal. Brandworkz search is super fast and intuitive, which makes it easier for your users to locate the right asset.
Brandworkz has several different ways to search which your users will be used to from day to day internet usage. Some of the search functions available are Faceted Search with hierarchical filters, multi-select filters, suggested search and hit highlighting.
Effortless Sharing
Integrate Brandworkz with your CMS to push digital assets from your DAM system directly to your CMS/website. You can also share approved assets directly to social media without needing to download and re-upload first.
Tagging your assets
Brandworkz offers a flexible metadata tagging system based on the information you need to identify an asset. You can also add a 'download reason' report to learn what an asset is being used for after it has been downloaded.
Tagging your assets
Brandworkz offers a flexible metadata tagging system based on the information you need to identify an asset. You can also find out how the downloader intends to use the asset by adding a Download Reason Report.
Managing asset tagging
Brandworkz automatically extracts and stores necessary asset information such as file format, size, pixel resolution and colour to the asset's metadata. You can add extra metadata, meta tags and keywords as required.
Enforced metadata
Force your uploaders to apply required metadata when then upload new assets to Brandworkz to improve your search functionality and make it easier for users to find the asset they need.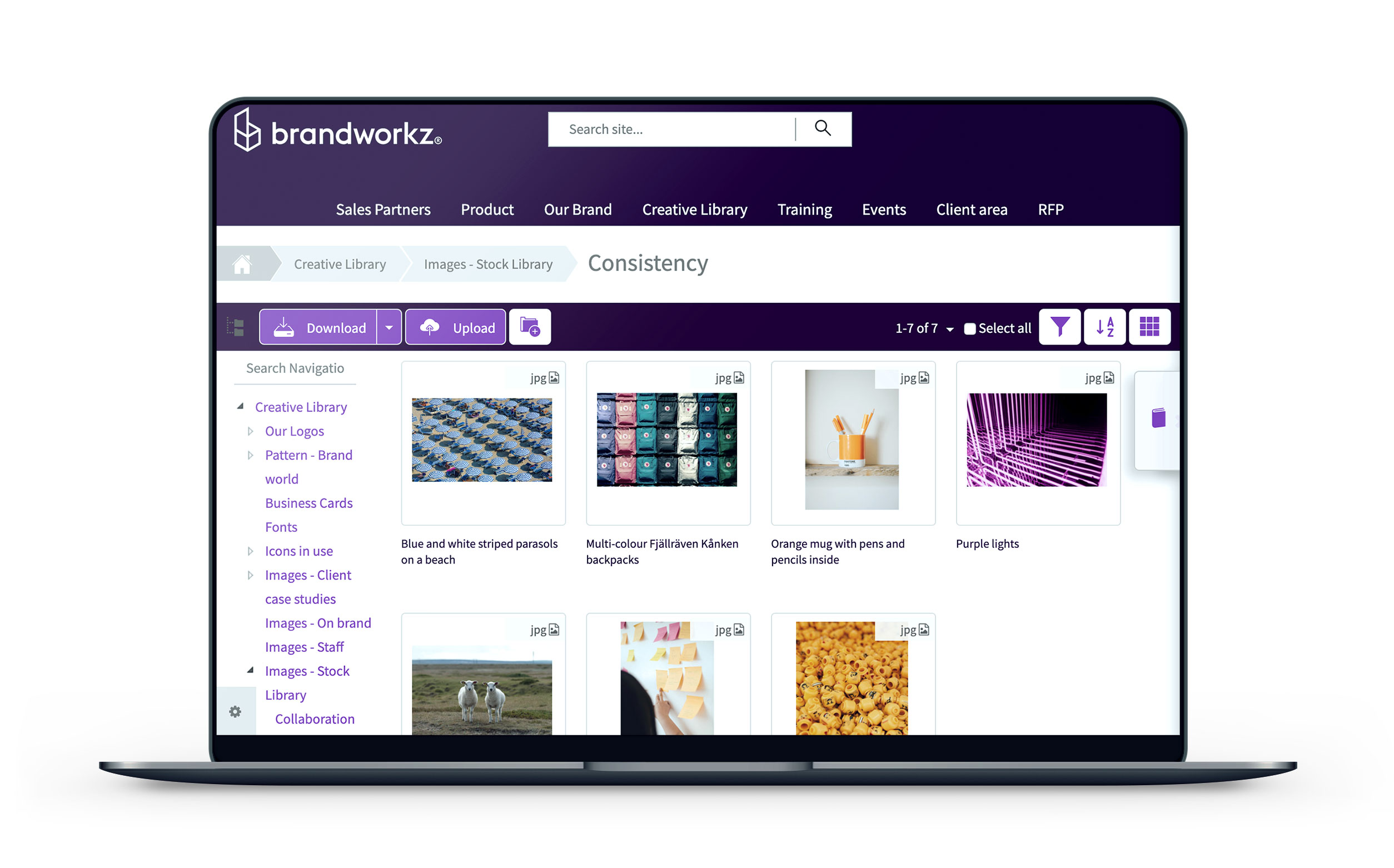 What is Digital Asset Management?
Find out what digital asset management is and how it will help you and your brand
Why use a Digital Asset Management system?
An online DAM platform makes the brand, its assets, and everything associated with communicating it's meaning available to those responsible for building that brand.
It is equally vital for communications and marketing departments to understand how to express a brand and its messages as it is for every employee, supplier and external agency employed. A digital asset management system offers simple yet powerful tools to help brands communicate seamlessly; whoever is doing it.
Internally, a new manager or an external marketing agency are empowered to produce better campaigns which truly further the product and company in the right way when it's crystal clear what the main differentiators are and they have easy access to all the right visual assets such as strategic positioning information, guidelines, logos, images and artworks.
A DAM system enables all parties to access the right brand materials at the right time and produce consistent marketing communications to maximize impact in the market.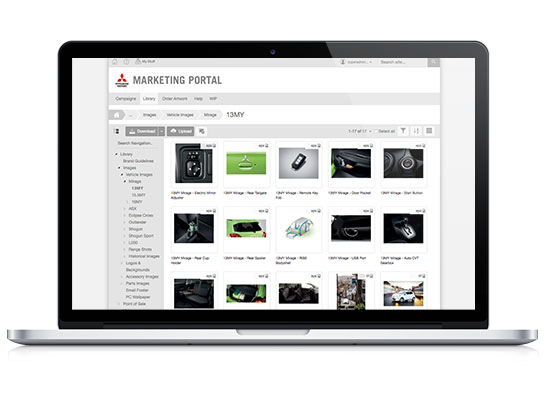 What is a digital asset?
Your digital assets are any files which need to be used and reused by multiple teams in different locations. In the context of Brandworkz, they will most usually be brand assets and guidelines documents; marketing content and campaigns. Depending on the industry your business is in, there may be more of one type than another.
For example, a law firm might have a more significant number of text documents in Word format and PDFs, while a design agency might have more images and videos or advertising layouts over documents. The common theme is that all these files are business-critical, and being able to access and share them easily is extremely important.
Availability of these digital assets needs to be central so that decentralised teams can self-serve what they require.
What are the different types of DAM software?
There are several different types of systems that digital assets can be stored in and these are defined by the technology that underpins them. Here is a broad list of the different types:
Cloud-based DAM System
A cloud-based DAM System is an online tool that is specifically designed for the storage, management, retrieval and delivery of digital assets no matter where in the world the user is located. A DAM system is better at managing digital assets because sophisticated tagging and metadata options and other specially designed features that facilitate easy search are available.
Metadata is often described as data about data and used to make finding what you are looking for as easy as possible. We will cover metadata in more detail later, but it is essential to note the importance of metadata management when it comes to selecting an appropriate DAM Platform.
A modern Digital Asset Management system will look like a website with visual cues, dynamic elements and a navigation bar. Some DAM systems will be 'skinned' to represent the brand, displaying brand colours, logos, fonts and other branding elements. The focus of a modern DAM system is to increase brand consistency and to provide an immersive brand experience for all users.
File hosting service
Over the last decade, there has been a rise in online file storage sites that provide a cloud-based solution that is similar to your internal file server. Brands such as Box, DropBox, Google Drive, Apple iCloud and Microsoft OneDrive offer an online space where users can store and manage their files and sync them across devices.
While these services do allow you to access your files outside of your internal network and on multiple devices, they suffer from the same problems as your local file systems. Folder structures quickly become unwieldy, and you are presented with a list of filenames with no visual indication about what the file contains and basic search functionality.
These systems are principally for personal use, and they work well in that use case, but when businesses with multiple users start using them the same issues of poor governance, access and sharing start rearing their head.
Internal server or file system
If you are reading this on your laptop or computer, you will probably have a file system on your desktop where folders and files are stored. Your company might also have an internal server that is only accessible to people within the business where digital assets are stored. A file structure like this will be most people's first interaction with digital asset management, and unfortunately, it might not be a great first experience.
The issue with these systems is that they often get crowded very quickly as there is no proper governance or people in place to manage them. People will save multiple versions of the same file in folders buried deep within the structure. All of this makes finding anything a cumbersome, time-wasting activity which results in people saving files on their desktop, therefore eliminating any chance of file sharing which will increase the amount of individual file request made to team members.
We speak to many businesses who realise that they need a digital asset management system after properly auditing their internal file server and discovering the amount of wasted time, money and effort.
The benefits of a DAM system vs file hosting or an internal server
A DAM system makes it easier to store, manage and share your digital assets. You and your users will have a centralised portal where they can find the digital assets they need. When you find the asset you are looking for, there are additional tools within the system, enabling you to manipulate the asset as required. This could be anything from downloading the asset in the format that suits best, sharing it directly from the system or making simple edits without the need for third-party software or associated design skills.
Search
Search functionality is the most crucial factor to consider when it comes to your digital assets and a DAM system. On average, marketers waste up to one hour a day searching for digital assets, with a digital asset management system that has developed best-of-breed search functionality, cutting that time to seconds.
While that's great when you know what you are looking for, being able to discover assets that you were not aware of is a vital part of any DAM platform. Having features like hierarchical metadata which allows you to drill down to a set number of assets that meet your requirements, makes choosing the right asset a straightforward task.
An internal file server or lightweight DAM system is not capable of delivering anywhere near the same level of functionality.
Permissions
With a DAM platform, you can set site-wide permissions that control the access your users have to the materials within the system and the actions they can take with those assets. Confidential information stays confidential.
With lightweight DAM offerings such as Google Drive or Box, it is possible to invite others to view or edit a document, but this is done on a file by file basis which is often too restrictive. The default of most users is to make all data public which risks exposing confidential documents.
User interface and user experience (UI/UX)
Designing a DAM system to deliver an intuitive user experience and a visually appealing user interface that reflects your brand has numerous benefits when it comes to brand consistency, the usability of the system and engagement. A world-class UI and UX makes it easier for users to find what they are looking for, take the actions they want and to discover new materials.
Metadata management
As we've said, metadata is data about data. In the case of digital asset management for marketing, this will be the data about your images, videos and other files. The types of data will range from simple file information such as the created date and file size to more client-specific data types such as the target channel for use and what is the intended audience. Basic DAM and file management services do not have the functionality required to manage metadata correctly, and this is one of the contributors to why it is so difficult to find what you are looking for without a proper DAM system.
File preview
You have finally found the asset you have been searching for the last 20 minutes, the file name is vague, but you think it might be right. Now, without a decent file preview, you will be forced to download and open the file to ensure it is correct. With a digital asset management system, all files (images, videos, PDFs, Office files, artwork files) have a large preview that you can use to review the asset before downloading or sharing.
Brandworkz Brand Management Software features
Everything in one place so everyone can find the stuff they need when they need it
Streamline, track and audit your marketing production processes – however complex
Let everybody find the right logo, every time – cutting out endless, tedious logo requests
Make better decisions from insights into your brand assets, people and processes
Every Office document on-brand and up-to-date across the whole company, sounds good right?
Show people what good looks like and stop them reinventing the wheel by promoting best practice
Show people what good looks like and stop them reinventing the wheel by promoting best practice
Brandworkz industry-leading security features keep your valuable brand assets safe