Manage your images, videos, documents, templates and digital artwork files better!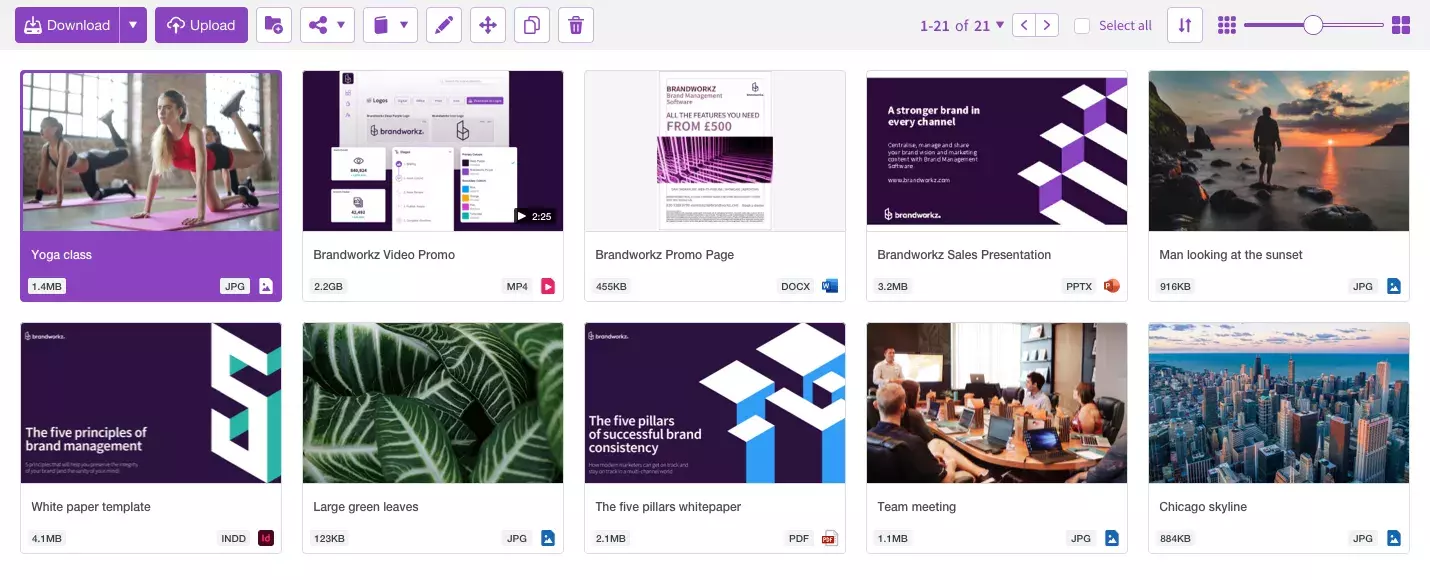 Control the content that makes up your brand
With the Brandworkz Digital Asset Management system, you don't just get a system where everybody can find what they are looking for; it is also tightly integrated with all our other modules and many 3rd party MarTech apps, creating a unified Brand and Marketing Management flow.
Every decent Digital Asset Management system under the sun can handle basic photos and videos.
However, they don't necessarily cater very well to all the other file types marketers and designers use. For instance, some DAMs may fail just trying to get a multi-gigabyte 4k video uploaded or may not create a reliable preview of Photoshop files, CMYK photos, MS Office files or newer filetypes like Sketch and Adobe XD.
Brandworkz has spent over a decade fine-tuning our filetype support, so it just works.
Great search means great tagging
Search is probably THE most important part of a Digital Asset Management system! If your end-users can't find what they are looking for, they will relatively quickly rebel against the system, and your DAM investment will bring very little return.
The foundation for any great search is great tagging, and most admins don't particularly like doing that, and we don't blame them. Brandworkz is here to help!
Tagging & Smart AI Keywords
Any vendor claiming they can fully automate tagging through AI is not being entirely truthful, as this simply isn't possible with today's technology.
As the example to the left shows, most AI auto-tagging systems can only provide generic keywords, which doesn't really help with meaningful keywording for many photo classes. Brandworkz extends this to generate more precise keywords of many picture classes' "real" content.
You will invariably also need other manual tagging fields. With Brandworkz, you have rich configurability for this and intuitive bulk-tagging,  integration with our workflow for enforced tagging on upload, Getty Images integration, and multi-language support with Google translate assistance.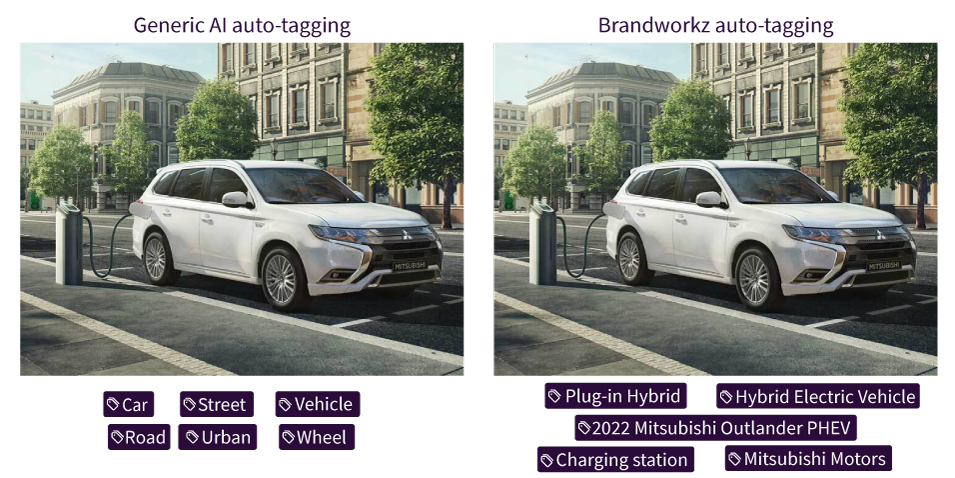 With tagging under control, you have the foundation for a great search experience. With Brandworkz, we further enrich the search index with automatically extracted colours and the full text of documents.
Perhaps the most significant advantage of our search for end-users is that it doesn't just cover the DAM module. Our search extends to our other modules to create a unified search for DAM, Workflows, Brand Guidelines, Templates and User Generated Artwork!
This is rounded off with helpful reporting for the admin to identify which assets are missing metadata tags, what users are searching on, and which popular searches don't yield any results.
Our logo is the unique identifier of your brand and the most valuable brand element you have. Get access to the suitable logo in the correct format every time with Brandworkz unique Logo Finder tool.
Simple to use decision tree to get you the logo you need in the format you want
Multi-brand? Co-branded? No problem! All your different logos in one place
Easy to edit and update when you have new brands to add a rebrand or brand refresh
Add your logo to an Album to share externally directly from within the Logo Finder
As a marketer, you might leave security and other "IT stuff" to be reviewed down the line. But, consider what your and your organisation's situation would be like if you were to lose ALL of your marketing collateral because your supplier didn't back them up correctly or got hacked – not a pleasant thought!
20 years in business with zero data loss
ISO 27001 security certified, including regular external audit
Regular external penetration testing and vulnerability scanning
Near-realtime backup/replication of files in triplicate, including to separate geographical region
Single Sign On (SSO) capability out of the box
Find out more about our Hosting and Security
More Digital Asset Management features
Content Management
Simple drag-and-drop upload of up to 1,000 files at a time including preservation of folder structure
Accelerated Uploads and CDN downloads powered by AWS
Accurate visual previews of a wide range of formats, including MS Office, Sketch, Adobe XD, Adobe CC and CMYK TIFF/PSB/PSD files and many more
Support for files up to 30GB
Configurable image and video transformation wizards enabling users to get them in the format, resolution or crop you need
Preview and playback of videos up to 8k
Easy to manage custom folder structure to match your needs
Relate assets to create collections and manage consent
Tagging & Smart AI Keywords
Automatic colour extraction for colour search
Full-text indexing of documents
Creation of unlimited custom fields for structured tagging/search facets
Support for multiple languages in both the UI and tagging, including Google Translate assistance
Automatic import of high-quality keywords and metadata from purchased Getty and iStock images and videos through our stock library connectors
Reporting on which assets are missing mandatory tags
Enforced tagging on upload through Workflow
Search & Find
Unified Search – indexing of CMS pages, Workflows, Digital and Print Templates and user-generated artworks
Reporting on popular search terms which don't produce any results
Full reporting on search results, popular terms and much more
Easy filtering by filetype, colour, orientation and status, as well as custom fields
Save searches for future use
Bulk download from search
Suggested spelling-mistake corrections
Bulk editing of tags from search
Sharing and temporary access
Effortlessly share files securely with both internal teams and external partners
Group assets in temporary albums and share them with users outside the system
Email albums out directly from the system or create a unique sharing link
Set embargo and expiry dates to control when users can access files
Control download options, so users only get the file version you want
Full reporting on when and what users download
Save temporary albums to your account for reuse
Brandworkz Brand Management Software features
Track, audit and approve new assets with the same tool you use to store and access those files. Streamline workflows and improve consistency.
Integrate your Brandworkz Brand Management System with your entire MarTech stack to improve efficiencies and save money.
Make sure everyone's on the same page with editable brand guidelines integrated directly with your DAM and approval workflow tools.
Get updates on your most used assets, when assets need to be reviewed, and how users are accessing your system.
Save time and improve consistency with DAM
Centralise, manage, search, distribute.
Explore our advanced DAM for yourself with a short demo. Fill in the form today to: 
See how our DAM works in practice with real-world examples from some of our clients.

Find out how our DAM works with our BMS capabilities to take your brand strategies forward.

Get advice on the best solutions for your needs.
All with no agenda and no obligation.