Get access to the right logo,
in the right format, every time
A simple but smart tool to manage access to your logos, so everyone in your business knows which logo to use when.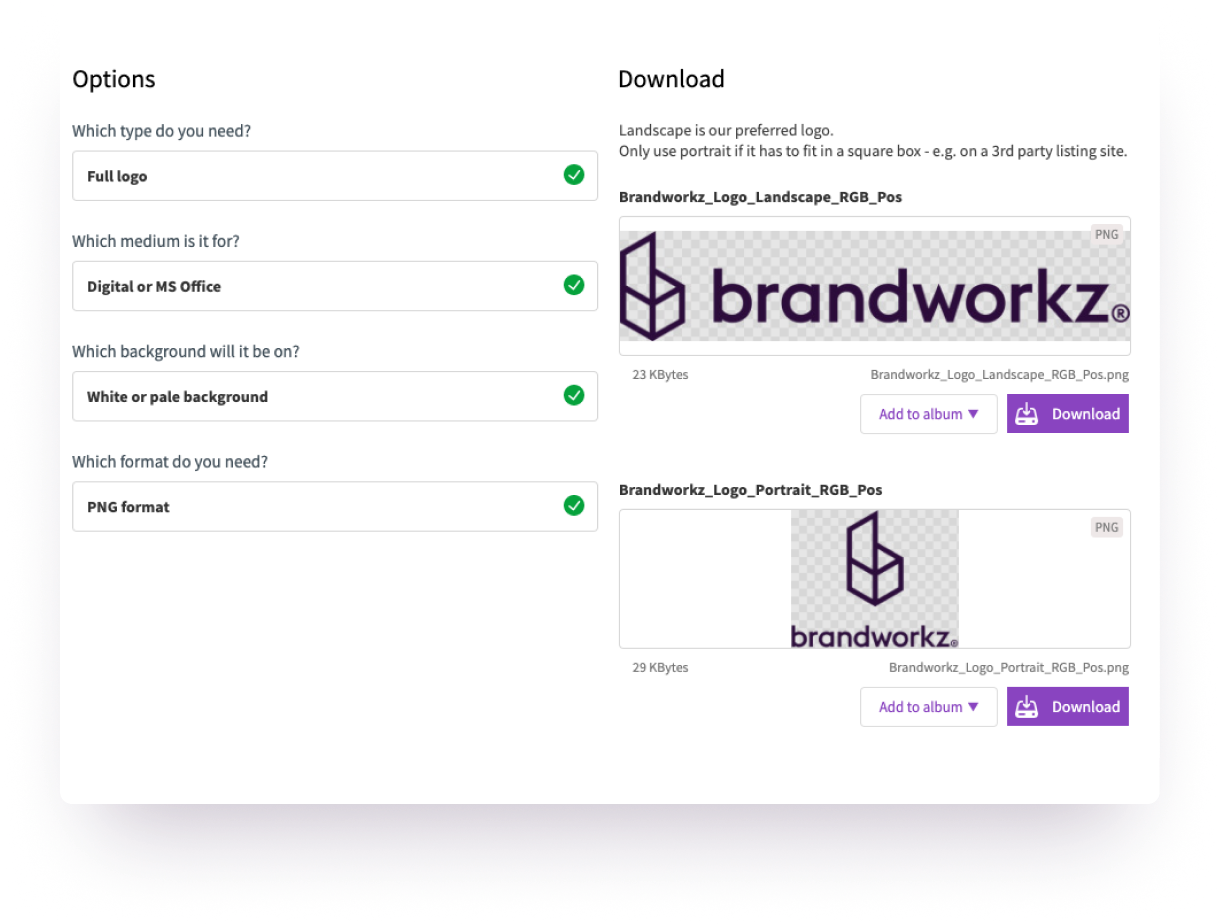 Love thy logo!
Your logo is the unique identifier of your brand and it is the most valuable brand element you have. You would not let another brand rip your logo off, so why let your internal teams misuse it?
What can Brandworkz
Logo Finder do for you?
The more, the merrier
As your guidelines change, you run the risk that some users will be using out of date versions, which will affect your brand consistency. With Brandworkz, everyone will have access to the latest guidelines, so there is no excuse to be off-brand.
No design skill needed
The Logo Finder decision tree makes it easy for anyone to get the exact logo they need. Answer a couple of simple questions about where you will use the logo and what colour the background will be, and you have the exact logo variation required.
Easy to update
Your logo may change, or you may create new variations. Getting them out to your team and ensuring they are used can be challenging, not with Brandworkz! Quickly update Logo Finder, and everyone has access to the correct version.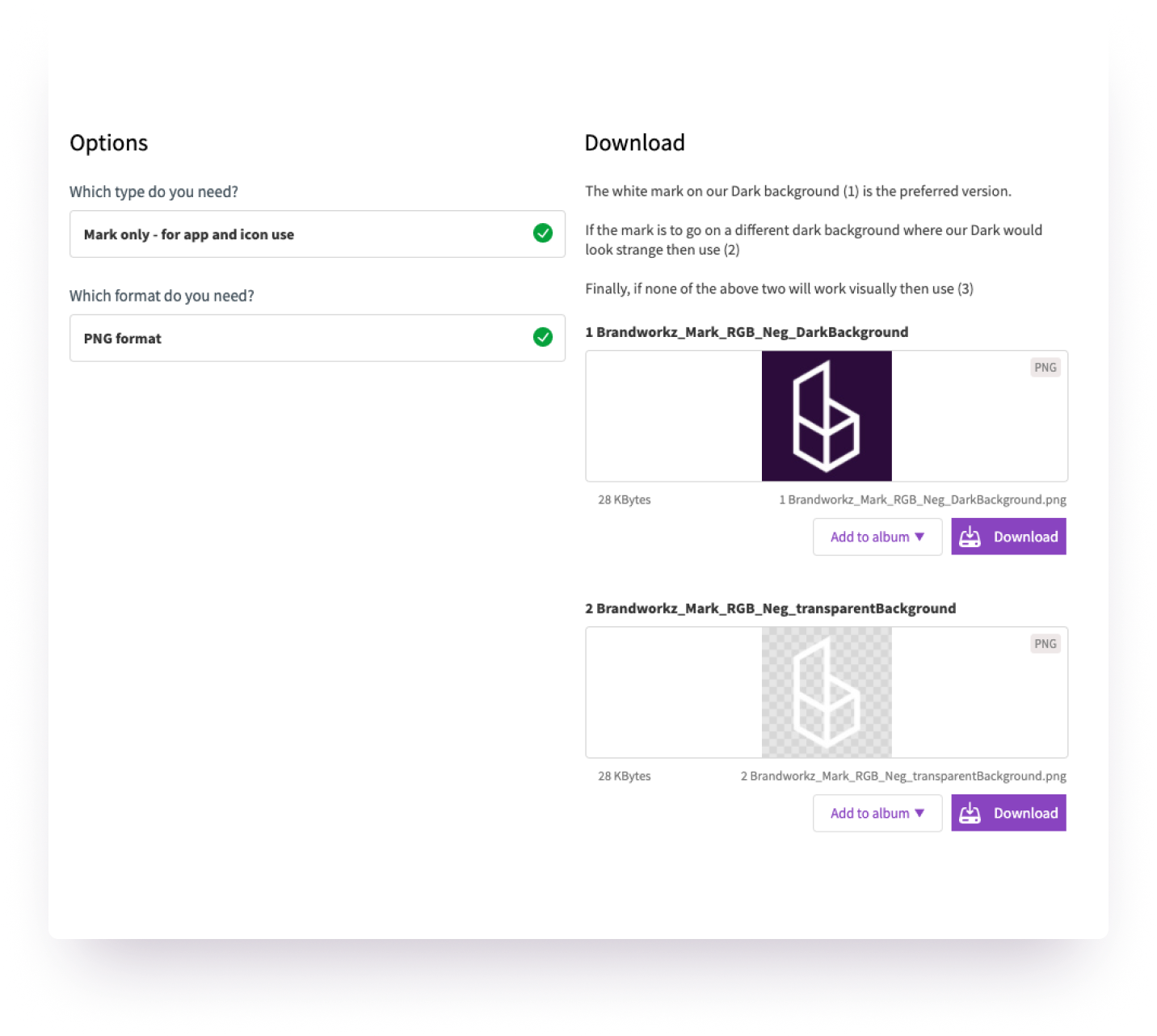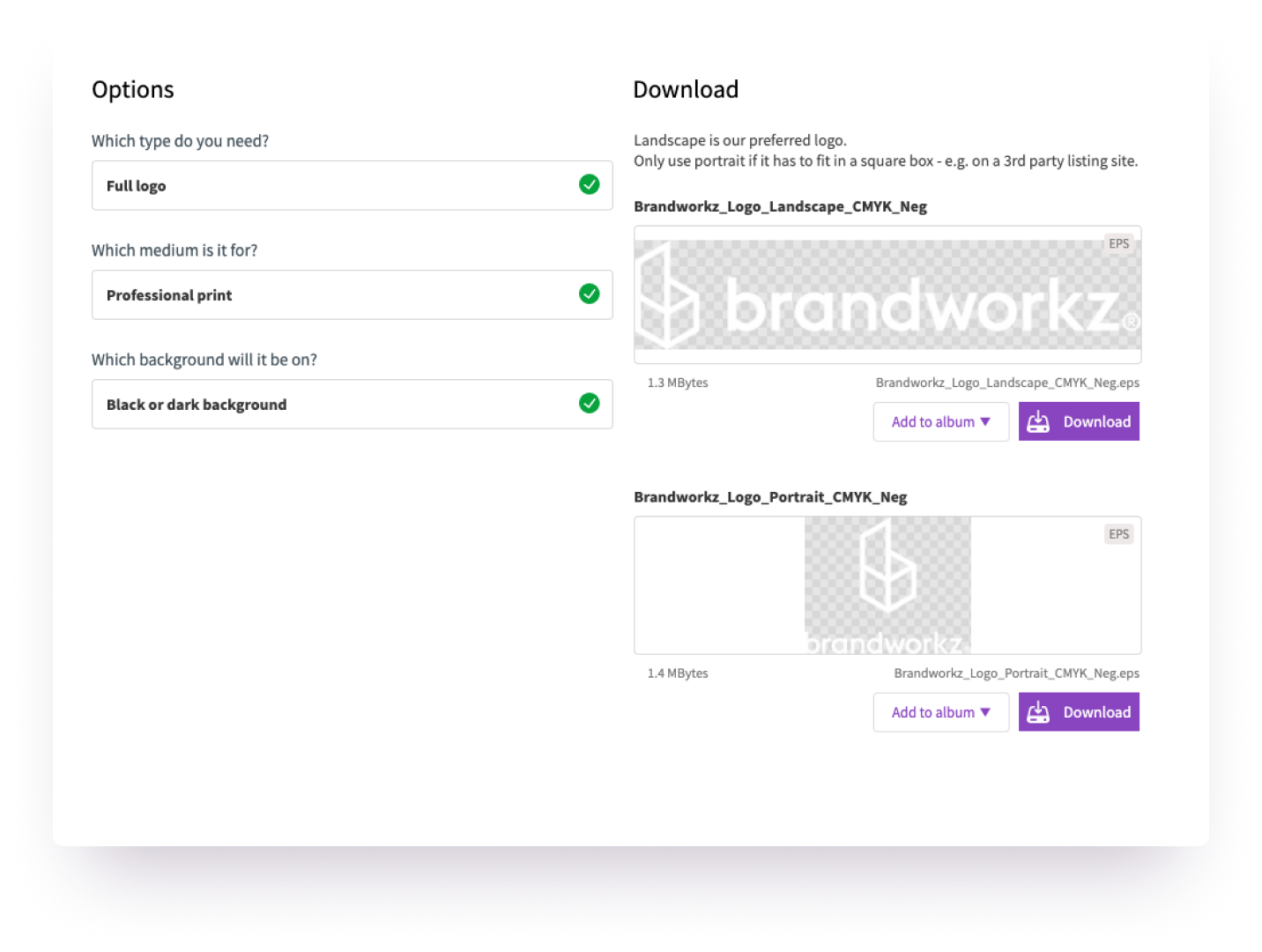 Sharing is caring
Sometimes you will need to share your logo with non Brandworkz users. Share the correct version of your logo safely and securely in your digital asset management system via albums and report on when it is downloaded.
No more bloated PowerPoint files
Need a logo for PowerPoint? Then it needs to be small and low resolution. Creating print-ready artwork? You need a high-res version for that. Logo Finder serves up the right version for the right use.
Reduce the number of requests
You'll almost eradicate requests from your local teams as it is so easy for users to help themselves. And your users don't have to wait for one central admin to respond to their logo request.
Try our logo finder for yourself in a short demo. Fill in the form to get started today.
What will you get?
Answer our quick questions and see how quickly the right logo is displayed.
Advice on the best use cases for your needs.
No agenda and no obligation..
Streamline, automate, approve.
Our advanced DAM sits at the heart of Brandworkz and provides you with a single solution for all of your storage and access needs.
Track, audit and approve new assets with the same tool you use to store and access those files. Streamline workflows and improve consistency.
Make sure everyone's on the same page with editable brand guidelines integrated directly with your DAM and approval workflow tools.
Show people what good looks like and stop them reinventing the wheel by promoting best practice.
Make better decisions from insights into your brand assets, people and processes.