Transform all your complex marketing processes into a simple to execute workflow
How do you stay on top of all the content that is being produced? You can cut corners in the approval process but then you run the risk of damaging your brand. You can manually approve everything but then nothing will get done. There is a third way!
Streamline and automate your marketing production processes and get to market quicker with Brandworkz marketing workflows. Plan, track and approve projects at a glance, annotate artwork online and identify blockages all from one online solution.
What you get with Brandworkz Brand Approval Workflow
Workflows tailored to the way you work
Whatever your business processes are, Brandworkz workflows can be set up to fit your specific business requirements. It can be as simple as a back-and-forth approval process or as complex as a branching multi-department workflow, Brandworkz can handle it.
Our dedicated Account Management team will sit down with you to map out your processes and translate them into a working Brandworkz approval process. We will monitor and optimise the workflow to make sure you and your team are operating as efficiently as possible.
Get a bird's eye view
With so much content being created and the ever-greater need for brand compliance, it can be tough to stay on top of it all. The Brandworkz workflow dashboard gives you a complete overview of every piece of content that is being created.
You can easily identify bottlenecks in your processes or jobs that are getting stuck. You can take real-time actions to rush through time-critical work or pause non-urgent jobs with the click of a button.
Annotate and audit online
Great pieces of content normally require the input of many different users to ensure everything from copy, tone of voice, look and feel, and compliance is all correct. Doing this without an approval workflow system leads to an email thread nightmare and the chance of things getting missed.
Approvers can review and annotate directly within Brandworkz, so there is no need to print and scan or use any other third party system to manage your approvals. All comments, annotations, approvals and rejections are recorded and audited for compliance.
Real-time updates and alerts
Brandworkz will send alerts to users when they are required to take action, keeping the whole process moving along. Alerts and reminders can be tailored to each user, department or brand.
With our Brand Management Software you can speed up your marketing production process by up to 80%. Get your content out to market faster by setting project and stage deadlines.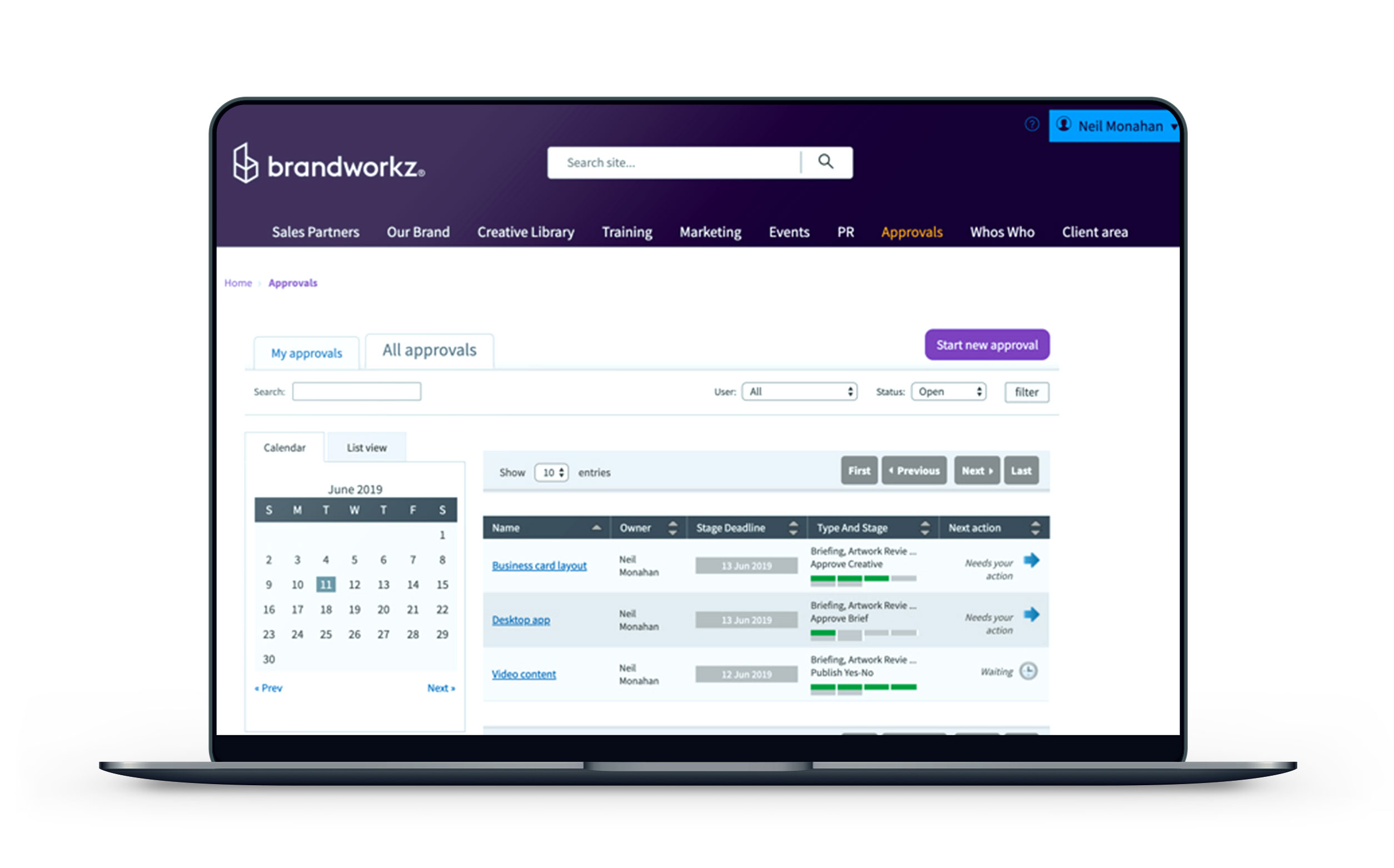 Brandworkz Brand Management Software features
Everything in one place so everyone can find the stuff they need when they need it
Let everybody find the right logo, every time – cutting out endless, tedious logo requests
Make better decisions from insights into your brand assets, people and processes
Every Office document on-brand and up-to-date across the whole company, sounds good right?
Show people what good looks like and stop them reinventing the wheel by promoting best practice
Show people what good looks like and stop them reinventing the wheel by promoting best practice