What is Brand
Asset Management?
A quality brand asset management platform is a brand manager's best friend. By centralising access and control over the moving pieces that define your brand, you get a simple system for managing brand assets that's able to retain brand consistency and creativity at the same time. Let's explain.
What are your brand assets?
Your brand identity is built out of a huge number of individual works of art. These files, images, documents, videos and more are your brand assets — and keeping them consistent and up-to-date is a central task of brand asset management.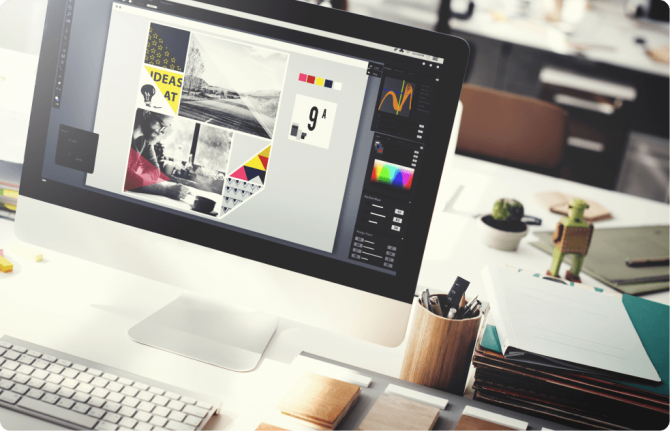 Who uses these assets and why?
Everyone from marketing to HR and finance needs access to at least some of each of these asset types — some being the operative word.
For example, raw video should be restricted to videographers, but your marketing team will need the final products. Font files are only important to designers and your IT team, but everyone needs to know which fonts to use. Everyone needs access to your logos, imagery and pictures — but probably no one needs access to every single option you have stored.
What's needed is the ability to curate who sees what and when in order to simplify making choices and ensure no one edits the wrong thing. Then, it's critical to have brand guidelines software to educate users about what's on-brand and what's not.
Why brands need brand management
Since the dawn of time (well, probably more like the '50s), brands have needed asset management. However, the digital, work-from-home age has upped the stakes. Without a single source of truth in the cloud, you really don't stand a chance at brand consistency — here's why.
More channels than ever
Every channel adds complexity, choices and asset variations. That means more file types, new campaign alterations and one more thing to keep consistent. Without effective version control, all these options can easily get out of hand.
Increased reliance on technology
From Zoom meetings to your CRM, technology is central to business. This increases the ROI of an asset management system that can integrate with your other tools. It also makes a cloud-based solution critical to supplying the access your teams need.
Squeezed budgets
Marketing budgets have felt the pain of cutbacks recently, and that's unlikely to change anytime soon. A centralised system helps you get the most out of your assets — ensuring that work isn't duplicated and teams are able to operate as efficiently as possible.
The problem with traditional brand management
Too many individual tools
Standard brand management uses a different tool for every task. This leads to the duplication of assets, some assets being stored in the cloud and others on-prem — complicating workflows, driving up costs, and increasing the risk of releasing inconsistent creatives.
Not enough integration
Integration is an important priority — but it's one that's left out of standard brand management strategies. If your asset management system isn't integrated with the rest of the tools and systems you use, you're making everything unnecessarily hard.
Poor management of resources
Putting your assets to use means knowing where they are, how they've been updated, how others are using them, and more. This is only possible with a complete and integrated perspective on brand management — which traditional brand asset management strategies don't deliver.
The three parts of brand asset management software
Brand management software (BMS) — which is just another term for brand asset management (BAM) software — provides a complete home for your assets by delivering three main outcomes in a single solution.
Storage and access
Your assets need a place to live that users can access based on permissions set by you. At the heart of every brand asset management system is a DAM (digital asset management) solution able to deliver just that.
Approval workflows
New assets need to be created. BMS integrates approval and annotation software with the storage tools you need to access the final products — keeping things simple and streamlined across every asset's life cycle.
Templates, guidelines and more
BMS goes beyond the basics to deliver editable templates, customisable brand guidelines, advanced tools like a Logo Finder and more to centralise everything you need to manage your brand.
The impact of high-quality BMS
A platform for your whole brand
A high-quality brand asset management system will stop you from weighing consistency against creativity. It provides a single home for brand management, and allows you to remain flexible while feeling assured that the basics will be covered.
More effective use of resources
You know what you have, you know what's used, you know what you can throw out and more. BMS delivers analytics about it all, and notifications about updates or changes that need to be made. Take back control over your assets, realign your brand and make sure everything is used as efficiently as possible.
Improve collaboration
It's hundreds of times easier to communicate in a single platform — particularly one that integrates workflows with storage and access of existing assets. BMS lets you set up notifications, so no assets are destroyed, changed or otherwise interfered with without your all-seeing eye giving the action a once over.
Time and money saved
Integrated solutions make everything faster. Our own research shows that BMS saves businesses an average of ​​724 hours a year searching for assets and a whopping 6,017 hours a year creating new assets (that's 250 days). That equals over £150,000 in marketers' time. So… your BMS will likely more than pay for itself.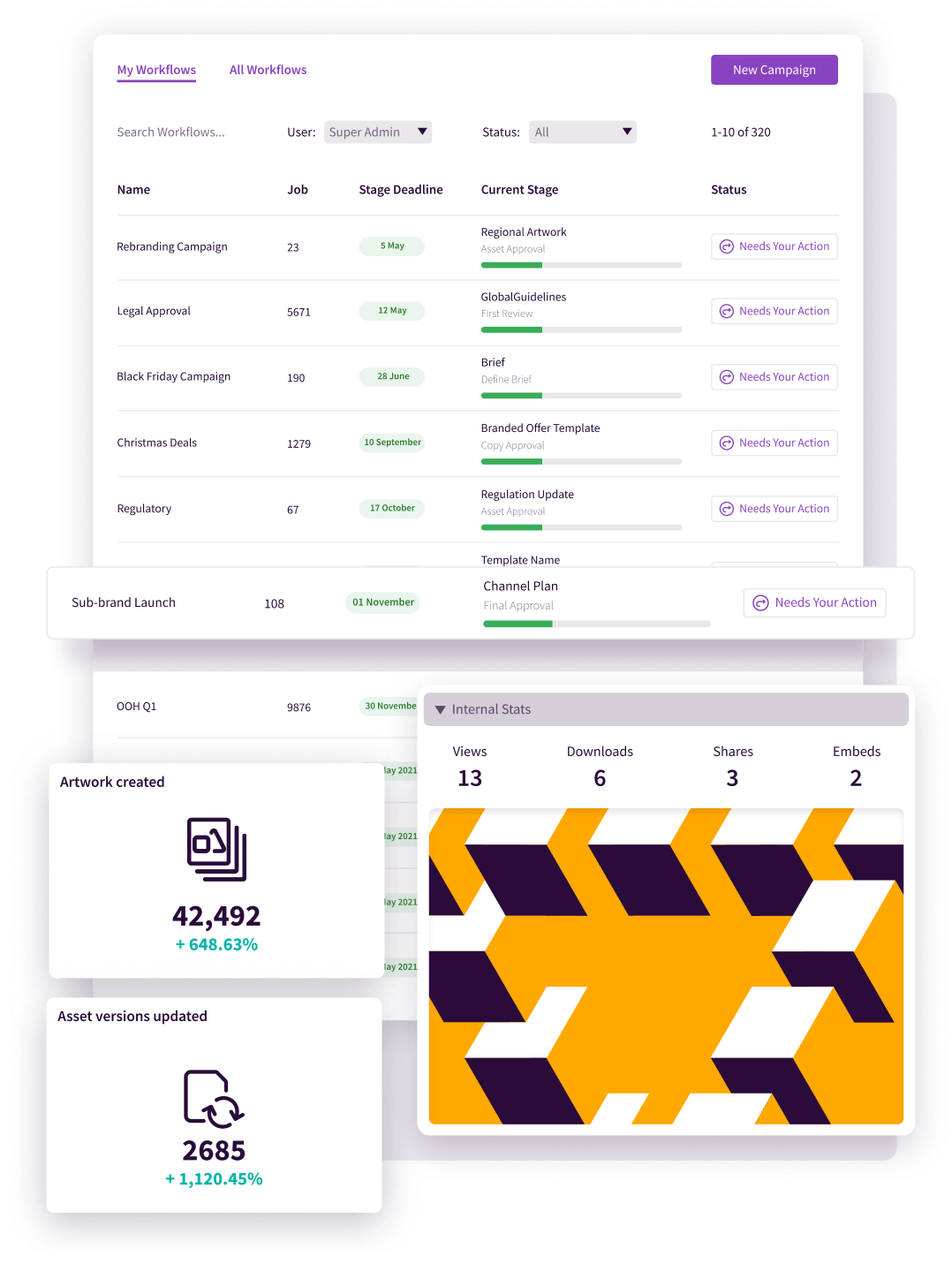 Book your demo of Brandworkz today!
If you like what you've read so far (and we think you might), it's time to give it a try with a leading brand asset management solution and start managing your brand assets PROPERLY today.
What makes Brandworkz unique?
If you're still not convinced, let's make this more concrete and talk about what a specific brand asset management tool can do for you.
Brandworkz is our baby, and we've been working to make it the best BMS on the market for over a decade. Already trusted by more than 100,000 marketers worldwide, Brandworkz provides out-of-the-box functionality within a platform that can be customised to meet almost any need. We take pride in the things that make us the most efficient, hard-working asset management tool around:
Advanced features
Create web-to-publish templates which you can easily open and move around the various apps you use. Access a best-in-class DAM software with powerful permissions, notifications and special support for your most-used file types. Receive support for multiple languages and easily work across distances. Get customised reports and analytics about everything related to brand management with brand reporting software.
Customisation
You can customise Brandworkz within an inch of its life, or just use it out-of-the-box. However, it's our flexibility that makes us perfect for businesses that are scaling up, or businesses looking to align brand management with already existing, complex systems.
Integrations
Brandworkz plays well with others, integrating with a wide range of business and marketing tools. Creatives can access assets directly from the software they use — from Photoshop to Powerpoint — and you can automatically update branded material in your CRM and across the entire business.
No matter your business, Brandworkz is set up to integrate into your system and start making it easier for you to do your marketing, communicate more clearly and get your work done without wasting time. Focus on your brand strategy without getting bogged down in admin, and build the strong brand your business deserves. We built it to solve the challenges faced by brand managers… and that's exactly what it does.

Our most popular features
Don't take our word for it
Take control of your brand today with Brandworkz
Your brand is manageable, and it can be more consistent and profitable. However, you need to implement an efficient, hard-working BMS to unlock its true power. Brandworkz is that BMS. Book a demo today.