Brand management can feel a lot like herding cats. Particularly if you've recently rebranded, the need to chase down old permutations of your logo and stop outdated graphics from making it into social posts can seem endless. 
Of course, as a brand manager, you know all this. You're probably thinking "yes… I hate our old colour scheme, it's actually ruined the colour green for me — how do I make it end?"
Well, there isn't really one solution, but there are lots of ways that you can simplify how you store, distribute and provide access to branded material. The more you can integrate your marketing stack and enable self-service access to on-brand assets, the simpler your life will be. Taken together, the brand management system you create can (and will) have a dramatic impact on your ability to overcome the challenges you face on an ongoing basis. 
Fundamentally, we believe that solving challenges starts with understanding them. So, without further ado, let's dive into these challenges and help you build a better tomorrow.   
Additional resources: For checklists and guides designed to take your file organisation, workflows and brand guidelines to the next level, check out our new Brand Consistency Toolkit for free. 
1. Brand consistency and more channels
Brand consistency helps you to stand out and stick in people's minds, and it's been estimated that presenting your brand consistently across all channels can increase revenue by 33%.1 However, "every channel" is an increasingly tall order. 
Brand consistency wasn't exactly easy in the old days of print media, and only print media. However, at least you then only had the demands of that one medium to keep straight. Digital marketing has expanded these considerations exponentially. For brands subject to strict marketing compliance (for example, financial services) getting this right is even harder.  
Not only is it important to think about your website (or websites), PPC ads and social media, but also potentially third-party eCommerce marketplaces, video conferencing, VR and more. For each of these channels, there will be specific considerations regarding compatible formats, sizing, colouring, etc. — and your teams will want to customise creatives to fit different campaigns on an ongoing basis.   
What should you do? 
Consistency across channels starts with understanding which channels you use. This is as simple as sitting down and writing them out, along with the specific requirements of each. For example, which social media platforms are you on? Are your Office documents shared externally? Do you have branded material on third-party sites? etc. With this context in mind, there are then three main points that will really help simplify consistency: 
Your brand guidelines: These are the beating heart of brand consistency. Each different channel you use needs a specific section within your brand guidelines. Make sure to cover visual guidelines, but don't forget about tone-of-voice. For example, on AdWords and many social media channels, text is the main way of getting your message across — so, you've got to make it count.  
Customisable templates: Brand guidelines are great, and are critical for creating new on-brand material. However, a lot of your users are just going to want to make small tweaks to existing creatives, and if you can enable them to do that without having to start from scratch, you'll accelerate production, reduce costs and improve consistency in one go. Customisable templates that allow for editing but lock in core branded features enable just that.
Self-service logos: Your logo is your most used and abused marketing asset. You need to make it easy for users to find the right version, in the right orientation and in the right file format. Again, this is something that you could rely on your brand guidelines for — but you probably shouldn't. Logo decision trees that use questions to direct users to the logo they need allow for self-service access to the right logo without requiring users to really understand the specifics. 
The details of how you achieve all three of these outcomes come down to the tools you use. For example, high-quality brand management software will provide an easy-to-access and editable platform for your brand guidelines, along with customisable templates and Logo Finder features. Although you can piece together these capabilities using a number of different tools and manual processes, a unified platform for brand management has a lot of benefits — including helping address challenge number two…
2. Hybrid and remote working 
When we all started working from home in March of 2020, it was a shock to the system. Realistically, there was a lot going on that year, but remote (and now hybrid) working certainly made brand management and brand consistency just a little bit harder — and flexible working looks like it's here to stay. Figuring out how to keep your cat out of Zoom calls once and for all is one thing, but making sure everyone can access the right on-brand images from anywhere in the world is a whole lot harder.   
What should you do? 
You should start by looking at this as a good thing because basically everything you need to do to improve remote access to your system will help you conquer the other challenges on this list too. Put simply, it's all about your DAM (Digital Asset Management), or BAM (Brand Asset Management), or BMS (Brand Management Software), or… it's about the software you use to provide access to your branded resources. 
Everyone needs a DAM, as a brand manager you know all about DAMs. However, remote working adds to the value of investing in a high-quality DAM, and the value of wider-reaching solutions. Regardless of whether or not you access these capabilities through integrated brand management software, or using a number of separate tools, there are a handful of core features you need to be on the lookout for in the context of remote working.  
Permissions: You need the ability to set user-specific (and admin-specific) permissions for everything in order to make sure that people only access the brand assets that are relevant to them. This will reduce errors while making it easier for users to find the right thing. 
Approval status tracking: You need clear visibility over what's approved, what's out of date, and where different deliverables sit within production cycles. Workflow and annotation tools make this easy, and are worth the investment if integrated directly with your DAM.  
Simple log-in: If it's hard to log in to your brand portal… people just won't, and then they might go off the rails and start creating their own images or graphics, and then you've really lost control. The answer to this is Single Sign-On in which your marketing system/DAM gets connected to your main corporate log-in system. This way, employees are automatically authenticated and logged in without ever needing to register.
Notifications: You need simple ways to keep people up to date about the availability of different creatives, when assets need to be reviewed, the need to take actions, when new content is available, and much much more. Working in a remote context makes it vital that these are automated and directly integrated with the systems you use. 
Direct integrations with the applications you use: This is more of a great feature to look for in a DAM than something specific to remote working, but it's no less important. Apps like PowerPoint and Google Slides have the ability to insert free stock and web images into presentations right from inside the app. Unless you make it easy to insert an on-brand image from your photo library then some users will probably not do this, perhaps simply because they don't even know that they can. Your DAM needs to directly integrate with these often-used apps, and provide special preview support for the file types that you use most often. 
Suggested reading: If you want to learn more about file types and DAMs, check out our new article — Which file formats should your DAM system support? 
Again, you can achieve all of these outcomes using a whole range of different tools. However, the more you can consolidate around integrated solutions the easier all of this is going to be — particularly in the context of challenge three… 
3. Increased pressure to understand technology (specifically, integrations) 
Technology is transforming how brand managers access, control and… well, manage brands. However, to make the most of those opportunities, brand managers need to understand the tools at their disposal and have a grasp on how technology choices can change outcomes. 
To a large degree, a lot of this comes back to integrations, and understanding what integrations can do will allow you to better communicate with your IT team and get the outcomes you need. For example, if you know it's possible for your DAM to integrate with applications that your end-users actually use, then you can get help making it happen. This is how you ensure that your MarTech stack is not your enemy, and works effectively together instead. 
What should you do? 
There are two halves to this answer, and your solution needs elements of both. It's really just about degrees.
Part 1 — Upskilling and reskilling: This is pretty self-explanatory. You should learn about technology. You don't need to learn how to code to meaningfully contribute to technology conversations — in fact, just getting pretty good with Googling will get you a long way. Then, next time you get your IT department to help you do something, sit in and see if you can learn it yourself. 
Part 2 — Maximising the number of integrations that come standard: You can avoid a lot of the headache of integrations by simply investing in a tool that is already integrated. For example, high-quality brand management software allows you to entirely avoid integrating your DAM with your workflow annotation tool because it delivers both capabilities in a single package. The right software will then make future integrations easy, minimising the skills you will need to learn. 
Fundamentally, solving this challenge is about continuing to learn and grow as a professional, while also using technology to minimise the challenge of managing that technology. Check out if the tools you use are supported by integration software like Zapier or IFTTT. These are easy to use and you can massively expand your ability to do things yourself with just a little bit of extra knowledge. 
4. Limited marketing budgets
This one is really going to depend on your industry and company, but there is a reality that marketing budgets (and budgets in general) have contracted since the start of 2020. Gartner reported that many CMOs faced in-year budget cuts during 2020 with this culminating in a drop in average marketing budgets as a proportion of revenue from 11% down to 6.4% in 2021.2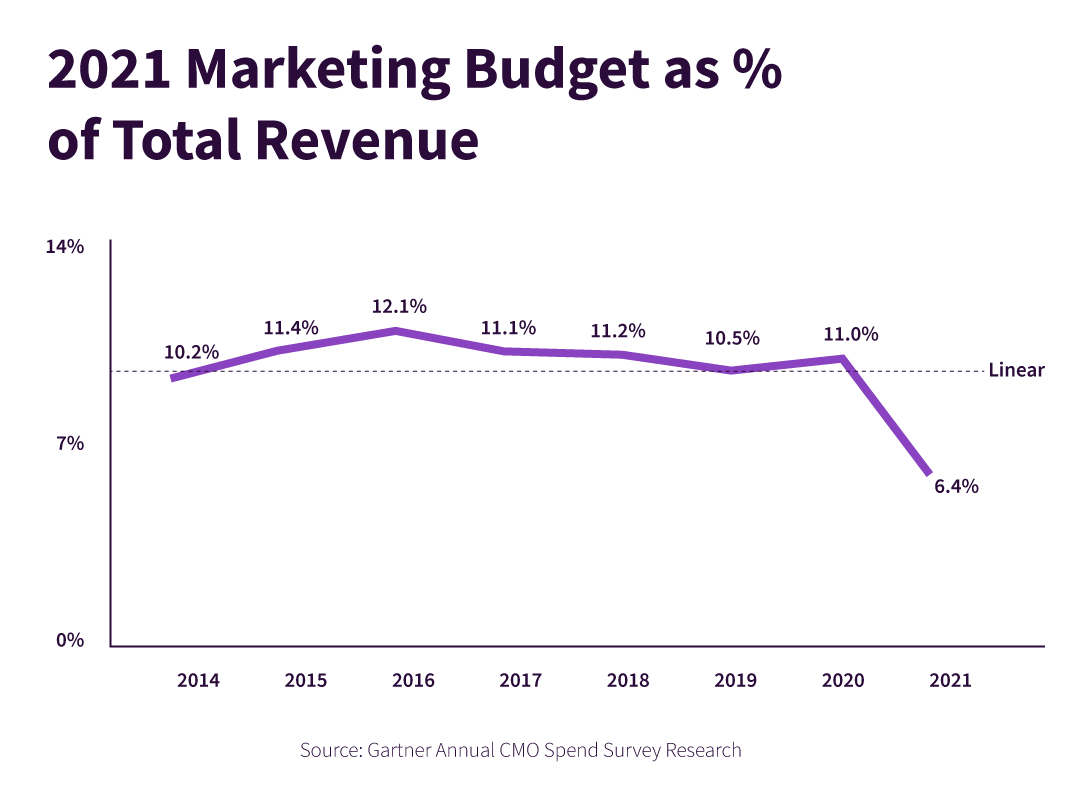 Although this trend may change, it's realistic to expect it to be with us for at least the next few years and is directly related to pressure from general economic uncertainty, compounded by further variability resulting from rapid digitalisation. Even sectors of the economy that have grown during social distancing and lockdowns have seen many brands reining in spending simply as a reflex against uncertainty. 
What should you do? 
There isn't one answer here, and your specifics really will have a big impact. However, there are three basic pillars to managing budget reductions without hurting outcomes. 
Be more efficient: The more you can do to reduce waste and simplify operations the better. For example, if you can provide self-service access to customisable and on-brand templates, rather than re-creating assets every time you want to make a small tweak, you'll massively reduce costs while still being able to create all the deliverables you need — not to mention all of the brand consistency benefits that templating delivers. 
Make strategic choices: You need to weigh your options and invest where there is the most value. For example, if you've seen a dramatic increase in web traffic and online sales over the last year (as many brands have), doubling down on digital marketing and website branding makes a lot more sense than getting some extra branded swag for the events this year that you might not even end up attending. 
Buck the trend: Just because marketing and brand budgets are contracting on average doesn't mean that yours have to. Of course, this might not be up to you. However, there are studies that show that continued investment in the future (e.g. marketing, R&D and new assets) can help brands recover faster and grow out of a recession.3 Fighting that corner in your organisation might help you pull back a few percentage points and not need to make so many compromises. 
In all cases, when facing budget cuts, it's critical that you have a clear picture of how your whole system is operating and can demonstrate the ROI of different investments. That means having tools that provide clear reporting and analytics over which assets are being used and how effective different strategies actually are. Again, reporting capabilities are something to always look out for when investing in a DAM or brand management software. 
The right platform makes all the difference
So many of your choices are dictated by the platform, software and technology you use to get the job done. For example, if you're reliant on disjointed spreadsheets, or online file systems like Box or Sharepoint, you're never going to be able to provide the customisable permissions, notifications and templates that you really need to create efficient and consistent outcomes on a budget. Equally, if you're using a dozen highly specialised, but non-integrated tools for each and every task, you're either gonna have to become an integration wizard or accept deeply inefficient and confusing workflows — not to mention the cost, and the resulting danger of getting caught out by budget cuts. 
At Brandworkz, we've actively sought to solve all of these problems for you with our highly configurable and advanced brand management software. With that said, we understand that you understand that we are obviously going to tell you that our solution is great! However, we don't want you to take our word for it — we want you to try it out for yourself. If you're struggling with any of the challenges on this list, book your demo and see for yourself how Brandworkz can turn your problems into solutions today!
---

110 Marketing, Web Design & Branding Statistics To Help You Prioritize Business Growth Initiatives
2The Annual CMO Spend Survey Research
3hbr.org Roaring Out of Recession