As a brand asset management Platform provider, it is our priority to deliver a platform that clients love using and a service that makes it easy for them and their teams to use it.
Brandworkz is used by marketers to align internal teams behind the brand, maximize brand vision and share on-brand marketing content effortlessly across all channels.
Here are seven reasons why the world's leading organisations choose Brandworkz and build long-term partnerships with us.
1. "The software is simple to use"
An interface that is easy and intuitive to use, but can execute complex business tasks simple will get used again and again. We understand that our end-users will not accept a chunky, ugly system, but that they expect to have the same user-friendly and efficient experience as they get from the software used in their personal lives. We work hard to ensure that Brandworkz is easy to use at the front-end but offers sophisticated functionality in the back-end.
2. "Our users can find exactly what they need"
Search is probably one of the first feature users will go to on any digital asset management or brand management platform. Google has set the bar high when it comes to search; it's what customers have come to expect as standard. Brandworkz Search is lightening-quick, intelligent and accurate with instant results as words are being typed, filtering to narrow down the result as you want and hit highlighting where matching words are highlighted in the asset titles.
3. "The user interface functions like a web shop"
At Brandworkz, one of our core values is "striving for simplicity". The platform's user interface has been simplified, designed based on what we are used to seeing on our desktops. Actions like right-click to reveal menus, multi-select, drag and drop, opening multiple tabs in the same view and quick sharing ensure end-users have the best experience possible.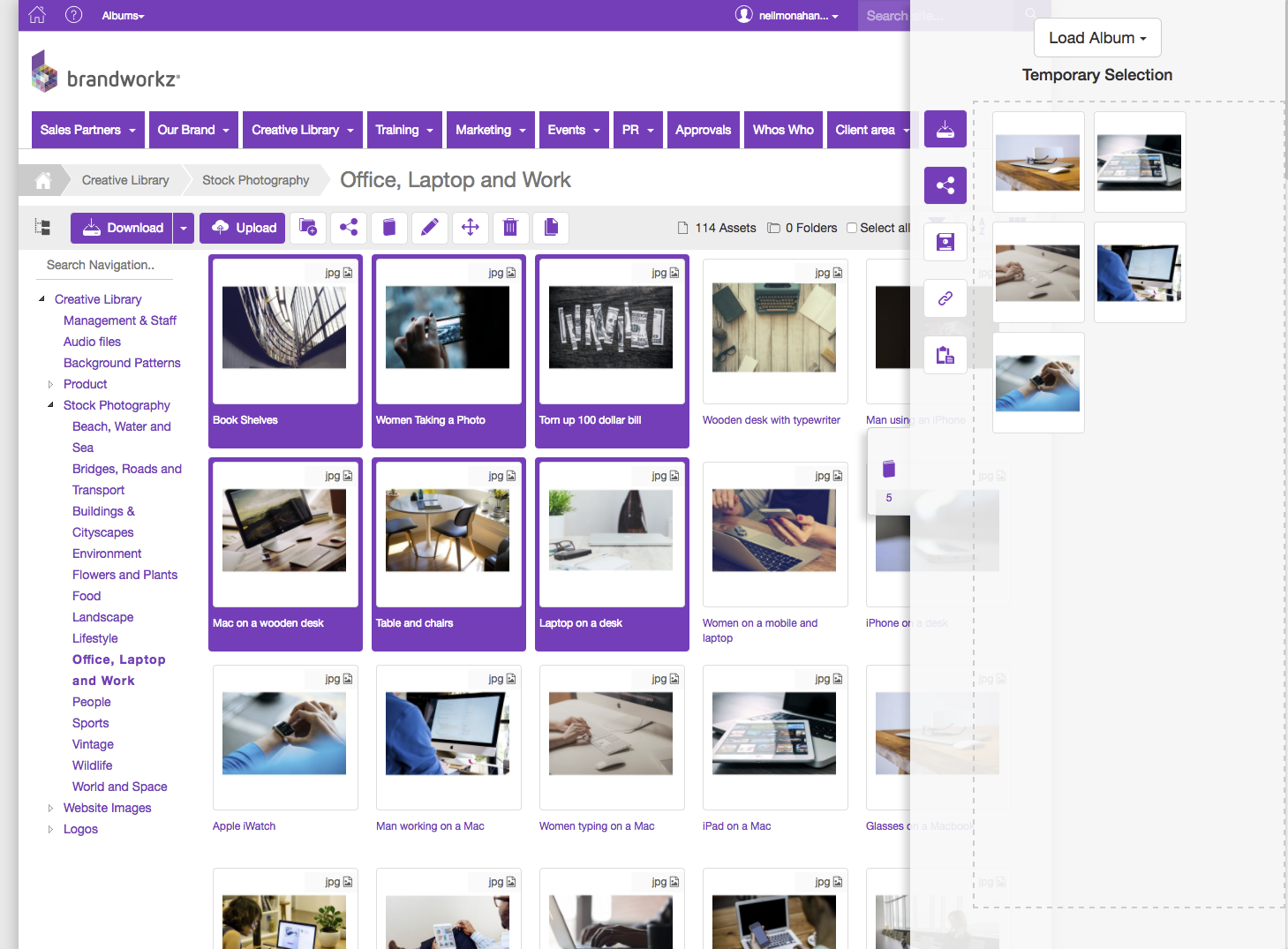 4. "A flexible and configurable brand management platform."
As an enterprise technology platform provider, we understand no two clients are the same. Each has a different approach and different requirements. That is why we make our platform fully customizable. The architecture allows for unlimited set-up options, yet it's still an out-of-the-box solution. Once implemented, clients can configure the site's branding, folder structures, user groups and metadata schemas by themselves at no extra cost, unlike other brand management platforms.
5. "A company that is looking to the future as much as we are."
The success of an enterprise technology platform doesn't rely only on what we can offer right now but whether the product roadmap is aligned with our clients' business direction. At Brandworkz, we think ahead of time to identify how our platform is going to grow in the future. Our roadmap is designed to align with the problems our clients are trying to solve and it evolves along with their business objectives.
6. "Eager to solve our problems."
The success of an enterprise technology product isn't only based on features but on whether the client feels supported through the implementation process and beyond. That is why our Client Services team play such a crucial role in our business.
From scoping and specification of clients' specific requirements, on-brand styling for their brand portals to project management and training, and ongoing support, we make sure that in every single step our clients' requests are heard and understood. We communicate constantly to build a mutual understanding and a strong relationship.
7. Proven results
We think the business results from our clients speak louder than words. Here are some numbers from a few of our clients:
Mitsubishi Motors: The marketing team used to get up to 10 enquiries or image requests from dealers and agencies every day. Now it's down to fewer than five a week.
Red Bull Racing: An image taken at the Korean Grand Prix was uploaded to the Brandworkz system at 8:32am and was used on Eurosport.com at 9:07am in a race review; taking only 35 minutes for the image to make it from the track, to the press, and out to the general public.
Aetna: 72% of their 48,600 global staff are registered as users of their Brandworkz platform,  engaging with the brand and building a globally differentiated business.
Turismo de Canarias: At the end of its first year of use, their Brandworkz platform had 50,000 visitors and more than 40,000 downloads of images and videos. Analysis of this activity is helping identify which of the Canary Island's products and destinations have the most competitive potential.
Icebreaker: Savings on the creation of marketing materials saves $100,000 per year. Time to market for new collections has been reduced by 1 month.
JLL: 17,000 people are using their Brandworkz system to learn about the JLL brand, find the resources they need to externalise the brand and its positioning, and to download over 3,000 assets per month.
If you would like to read more about our clients, please visit our Case Studies page and our Testimonial page.
If you would like to know how Brandworkz brand management technology could work for your organisation, please get touch with us by email at neil.monahan@brandworkz.com.