A total of 81% of CEOs in top-performing companies are now actively using IT to achieve business strategy.
That statistic from professional services provider PwC's Digital IQ study demonstrates a significant gear-change in the way IT is being deployed at a strategic level in today's high-flying businesses.
We at Brandworkz have also become aware of how the corporate mindset has been shifting.
IT used to be regarded as the engine of back-office number crunching and "getting stuff done," but now, businesses are increasingly recognizing how digital power can get stuff done more efficiently at every functional level.
That "digital power" is changing the way businesses operate and interact with the world.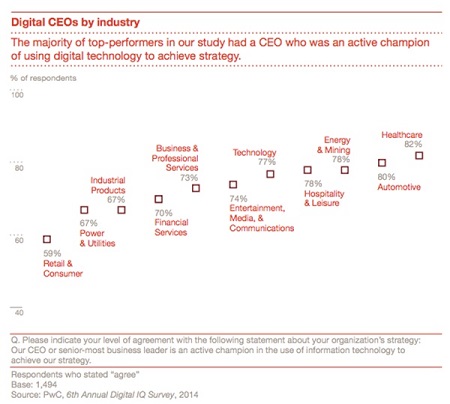 In our line of business, we see how marketers are rapidly adopting new technology, using software platforms to improve productivity and marketing efficiency. This digital explosion is the prime reason why chief marketing officers (CMOs) and chief information officers (CIOs) are working ever more closely together in the corporate environment.
"Most CMOs have woken up to the fact that technology is fundamentally changing what marketers do and that we can't go on treating IT as a back-office function," says Jonathan Becher, CMO at SAP. "And the CIO is becoming a strategic partner crucial to the development and execution of the marketing strategy."
A busy Marketing department will also bring on board a chief marketing technologist (CMT). However, in the absence of a CMT, success in marketing technology adoption will rely heavily on the relationship between CMO and CIO.
In Pursuit of a Collaborative Culture
Creating this collaborative culture is a big challenge.
Marketing people and IT people come from different worlds; they generally speak different languages and face different problems. Marketing people are creatively driven and fast-paced; IT people are process-driven and more measured in their approach.
How do you reconcile those different instincts?
Accenture has been surveying 1,100 senior marketing and IT executives from different countries and industries across the global economy. The results highlight the gap between marketing and IT.
45% of CMOs said they wanted to enable staff to access and use data and content without IT intervention.
49% of CIOs said they thought that marketing was using technologies without consideration for IT standards.
Only one in 10 of marketing and IT leaders believed their collaboration was at the right level.
45% of CIOs said they put marketing IT near or at the top of their priorities, while 64% of CMOs thought marketing IT was placed at the bottom of the CIO's priority list.
So where does that leave us?
We have to face up to it: Digital transformation isn't just going to happen without the collaboration of IT and marketing. We have to shift the mindset of both parties so that each supports the other in marketing technology decisions.
In the ideal situation, who will be doing what? Here's my take on it.
The CIO will…
Focus on creating business value, not increasing IT productivity
Get better acquainted with digital marketing technologies and train his or her IT team in the resources and skillsets to support the implementations
Participate in selecting and testing new marketing technologies in the early stages (often neglected in early-stage discussions with vendors)
Work on technology governance, security, and integration with other marketing systems
The CMO will…
Develop a good understanding of marketing technology but also an understanding of what general systems and processes the CIO has running already, lessening the risk of friction down the line
Evolve an educated view of how to merge marketing objectives with wider business growth
Pursue an agenda and investment plan for marketing technology that has been agreed with the CIO
Integrate with the Sales department's technology as well (but that's a different story)
The following graph by Forrester research shows how marketing professionals are already recognizing the problems we've been discussing. Better still, the graph suggests marketing professionals have the vision to take on what needs to be done.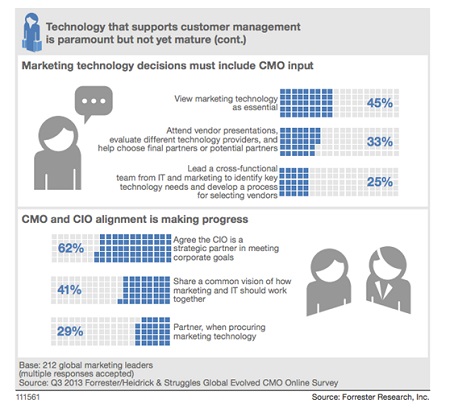 Making the right choice of software is not easily done. At Brandworkz, we've had dream client situations in which the CIO and CMO overviews have a mutual definition of success. Both parties have a clear picture of the problems they need to solve and share accountability for business performance improvements.
And then there are those where marketing and IT are not aligned. Typically, IT has been brought in at a late stage and the project is threatened because they've identified various issues around integration, compliance, or processes.
Talking About Ideals
When CMO and CIO share a common view of the digital marketing requirements, supporting technology, IT architecture, and a clear understanding of what it takes to succeed, marketing technology is in a good place to fuel business growth.
Marketers are invited to apply their particular expertise and experience to help IT understand the expected outcome from taking on a new technology product. This is how IT develops a customer-service mentality, including listening to the marketing team's thoughts and ideas, and how the process of enabling digital change becomes a productively creative endeavour.
But wait… this must, really must, come from the top. It has to be driven by business leaders who understand that creating a collaborative culture is the foundation of digital success and realization of a shared objective.
Good communication, shared objectives, strong leadership.
Click here to find out more about Brandworkz brand asset management
This article was originally published on MarketingProfs