Another election, another Twitter blunder. A clutch of political hopefuls has (once again) come a cropper in the run-up to this week's local elections.
Tory council candidate David Bishop resigned earlier this month after retweeting anti-Islamic messages, while UKIP council candidate Harry Perry has been suspended by his party after tweeting that Islam was 'evil' and that homosexuality was 'an abomination'. UKIP candidate William Henwood keeps them company, resigning from the party last month after tweeting that comedian Lenny Henry should emigrate to a 'black country'.
Political brands might be this week's casualties, but their commercial counterparts are exposed to the same massive opportunity and risk inherent in social media. The horse had already bolted in brand terms when an HMV intern tweeted live reports of mass redundancies at the beleaguered company's headquarters in 2013, but he dealt it the death knell when he quoted the irate marketing manager asking 'How do you shut down Twitter?'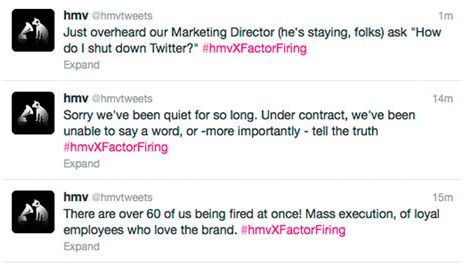 Tesco caused Twitter mayhem at the height of 2013's horsemeat scandal when it tweeted that tired workers were off to 'hit the hay'. What seemed to be an attempt to make light of its own failings went viral and was barely diffused by Tesco's apologetic explanation that the pre-scheduled tweet had been written before the crisis unfolded.
So, how do you stop your people pinging off tweets which diverge badly from your brand values?
1. Give your staff social media brand guidelines
Educate all staff on social media fundamentals, explaining what they are allowed and not allowed to do and what they are responsible for. Establishing house rules for use on each platform, even for personal use, is vital in mitigating risk. Write a tight social media policy for your people and explain exactly what type of engagement is suitable, what the ideal tone of voice should be, what is actively encouraged and what is out of bounds – ideally with real examples.
2. Sell your brand to your employees
If you align your internal teams so that they understand and are able to communicate what makes your brand unique, they help build that brand from the inside out. Great brands are holistic and have achieved high alignment in all their different departments behind a common set of values.
Aligning all internal departments is more important than ever because of social media. If for instance marketing is preaching about high quality, but the product department is trying to reach the lowest price-point or the client support department is hiring cheap, underskilled staff, then this disconnect will very soon be revealed via social media channels.
People are turning from corporate marketing to social media recommendations for choosing their products so the importance of everybody in the company 'living the brand' is greater than ever. If your employees understand your brand values and buy into them, they are less likely to blunder on social media.
3. Use technology tools to manage social media processes
We can learn from marketers in heavily regulated industries like banking and insurance who now use brand and marketing management technology platforms to help them engage in social media.
This software controls the creation, approval and posting of social media messages, removing some of the risks of breaking compliance rules or finding an internal lynch mob on your back. An automated process with a documented audit trail is built up, accessed from a single interface, and incorporating the people, departments and policies involved in compiling social media messages.
Those of us working in industries or businesses with less legal and compliance restrictions can also use technology to manage some of our own social media production and posting processes in order to limit social media mistakes.
Social media activity can never be made fool-proof but having a clear policy, aligning your staff behind your brand and introducing software tools will minimise the danger of the infamous trigger-happy tweet.
Originally published on The Wall
Find out more about Brandworkz Brand Management Software