Another triathlon is in the books. I've recently gotten into this crazy sport and have found triathlons to be quite addictive. Maybe because it's acceptable to run around in lyrca for a few hours without anyone questioning you or maybe it's the overwhelming feeling of accomplishment on completing the race. I'm going with option one!
And then there's the gear. There are so many cool toys and bits of kit to buy- very tempting to fall into the all the gear with no idea category!
So far, I've done two sprint distance triathlons and have two more booked in for this season.
However, last weekend, I decided I might as well go big or go home, so I did the full Olympic distance triathlon (1500m swim, 40k cycle, and 10k run) and competed in the Virgin Active London Triathlon, raising money for the Breast Cancer Campaign.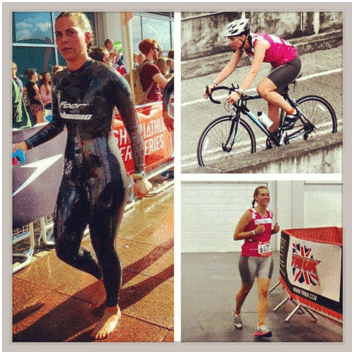 The race was great. I finished in 3 hours 13 minutes and 51 seconds! I was really pleased and quite surprised by how quickly I did it. On coming into transition after the bike at just over two hours, I thought I must have missed a loop on the bike course!
The swim was a bit chaotic. 300 women thrashing around in the Royal Victoria Dock in the Docklands mean loads of stray limbs flying, but I was actually thankful for all the competitors, as swimming in a straight line is a struggle for me. I was kept on course by the others. Surprisingly, the water was clean and tasted only a bit salty.
Transition one went smoothly. The wet suit came off quite quickly. I didn't even have to sit down and peel it off my feet! And the cycle course was nice and flat. Leaving the excel centre, it went through Limehouse Tunnel, past the Tower of London, up the north bank, past the London Eye and turned around at Westminster Roundabout. It was pretty exciting to cycle through central London with no cars and to see some of the city's most iconic sites.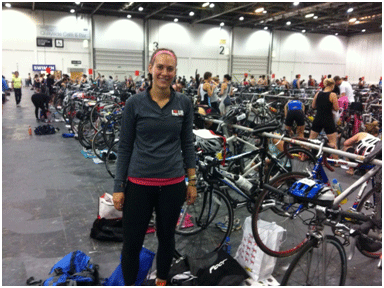 Transition two went well. Switching from the bike to the run is the weirdest feeling in the world. I always feel like Phoebe from friends in the episode where she and Rachel go running, my arms are flying and my legs aren't really sure what they should be doing.
I managed to run the whole distance – after all it's not swim, bike, walk!  No matter how slowly I shuffle along, I can't bring myself to actually walk.
Crossing the finish line is the best! You find that last little bit in the tank to make your run look impressive as you pass the crowd gathered around the finish line. I always forget the cameras and manage to pull a  face as I crossed the line of course, but knowing that you are done is amazing. All you want is your medal, a bottle of water, and somewhere to sit!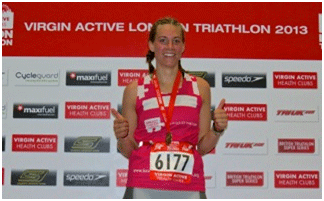 I recommend getting into triathlons, no matter your age. Training in three different sports keeps you all round fit and entertained – and you get to wear lycra (just kidding!). The other competitors are always friendly and willing to offer a little encouragement just when you need it. Most don't race to win, unless you are an elite, so it's about beating your personal goals and finishing the race.
If you fancy it, have a look at my charity page, it's still open for donations, and a very worthy cause!
http://uk.virginmoneygiving.com/fundraiser-web/fundraiser/showFundraiserProfilePage.action?userUrl=AbigayleNorman
Here is the full race break down for the nerdy ones out there that like the stats!
Final time:
3:13:51 finishing 3,853rd out of 4,676 competitors, 587th out of 811females, and 39th out of 79 in my age group.
Swim Time: 35:44
Transition 1: 4:46
Bike: 1:25:44
Transition 2: 2:54
Run: 1:04:45
Click here to find our more about Brandworkz digital asset management