I've just done the London Marathon! How can I not talk about running?
I did it! Yes I did it!
In 4 hours 56 minutes 21 seconds.
I was hoping to come in under 5 hours and I staggered over the line with a handful of minutes to spare so I am absolutely delighted.
And I was in the same race as Mo Farah! Ok, I didn't set off with the elite men, I set off with the charity runners and fancy dress costumes on the Red Start but seeing Mo, Stephen Kiprotich and Wilson Kipsang on the big screen lining up just metres away from us in Grenwich park made my heart beat faster before I'd taken a step.
After the very moving 30 second silence in solidarity with our friends in Boston, the day turned into a  joyous carnival. The sun shone, there were drummers, brass bands, pop bands, singers, steel bands, front garden DJs, people having barbeques, kids high fiving the runners, total strangers shouting 'go Anna go Anna', firemen cooling the runners with hoses, crazy costumes and the most marvellous sense of camaraderie amongst the runners.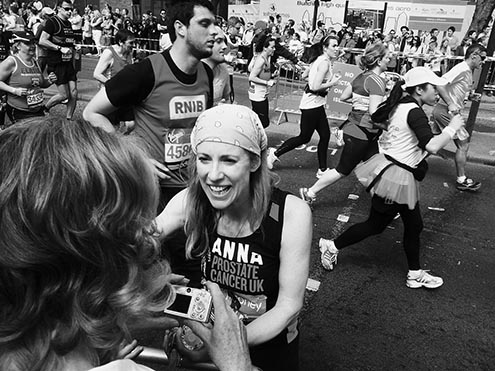 I was beaten by a camel, a soldier in combat boots with an 80lb pack on his back and Mr Bump but it was truly an exceptional experience. I found parts of it incredibly hard but I had friends and family at miles 9,13, 22 and 24.5 which made a massive difference and kept me running.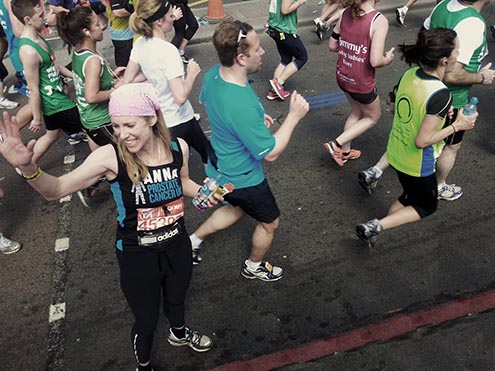 It was one of the most extraordinary things I have ever done and I would encourage anyone who can get through the endless winter months of training to have a go. Get a charity place, get fundraising and experience a day you will never forget.
Oh, and if you want to sponsor me there's still time.
http://www.justgiving.com/anna-cotton-smith1
As for me? I've done my marathon and I'm retiring! No more running. No more talking about running.