Technology & marketing talent at Tobacco Dock
Last week saw Brandworkz exhibit at the Festival of Marketing in London's Tobacco Dock. The Festival of Marketing brings together some of the best marketing talent, inspirational speakers and some of the latest technology in the industry.
We co-exhibited with our QlikView analytics partners Differentia Consulting to launch our new, combined #SmarterMARKETING offering.
With inspirational speakers such as Sir Bradley Wiggins and Alastair Campbell, exceptional industry insights from AirBnB, Marks & Spencer, Facebook and Instagram, and show-stopping entertainment from Professor Green and Grand Master Flash, the Festival of Marketing really is a world-class marketing event that can rival South by Southwest in America and the Web Summit in Ireland.
A big thank you to everybody we spoke to over the two days and thanks also to the organisers for their hard work. We are looking forward to next year already.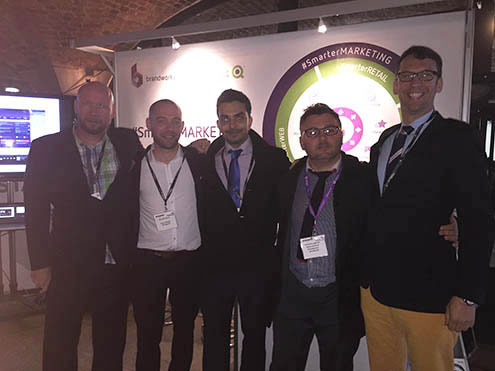 Dining and learning
But our Festival of Marketing didn't end at the close of the show. On Thursday night we hosted a Festival of Marketing fringe event in the May Fair Hotel in London. The 'Dine and Learn' evening brought together some insightful speakers, industry professionals from a range of marketing operations and some excellent food and drink. The evening opened with champagne, canapés, networking and general marketing discussions at the May Fair hotel. We then proceeded to the dining room where Brandworkz CEO Jens Lundgaard introduced the evening and welcomed all the guests.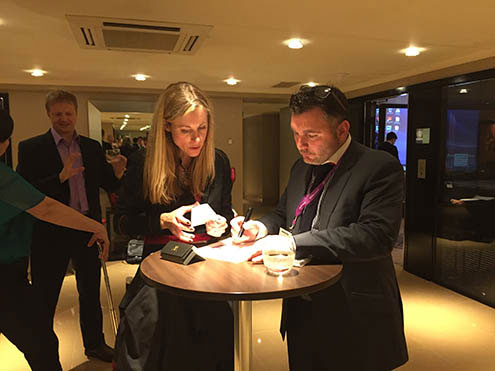 Insights into modern marketing
The first speaker of the evening was Brandworkz Sales Director Arnaud Lagarde. Arnaud spoke passionately about some of the challenges that modern marketers face. He gave an overview of the current myriad of marketing technology and how best to navigate through the often difficult process of identifying the correct technology for your company. Arnaud then discussed the expected increase in marketing technology spend over the next few years and introduced our new offering #SmarterMARKETING which includes Brandworkz brand management with advanced analytics provided by QlikView. Arnaud finished off by discussing his vision for a total integrated brand and marketing ecosystem which features Brandworkz digital asset management at the centre. Exciting stuff all around.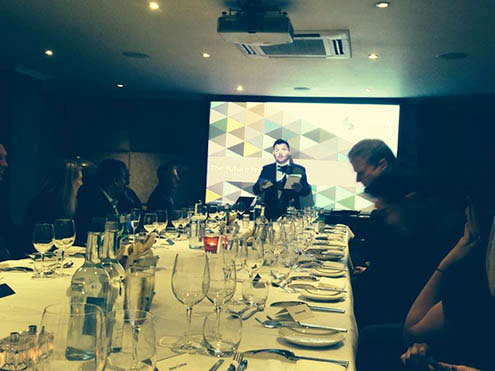 Mark Gallon of Differentia Consulting was next. Mark was on the stand with us for both days at the Festival of Marketing and gave all present an insight into how QlikView has empowered users in many different disciplines to gain valuable insights into behaviours and patterns that would be invisible to the human eye. Mark also discussed their newest product QlikSense. He gave us the example of Eurotunnel and how they use QlikView to monitor what is being said about the Channel Tunnel on social media during disruptions in service.
The presentations were rounded off by Ben Norton of ICP who specialises in delivering critical ROI in marketing technology, focusing on end-user adoption and consumer engagement. Ben brought to our attention the elephant in the technology room: namely 'are any of our people actually using it?' Ben shared his ten insights on user adoption which focuses on demographics, staff behaviours and the need for internal support.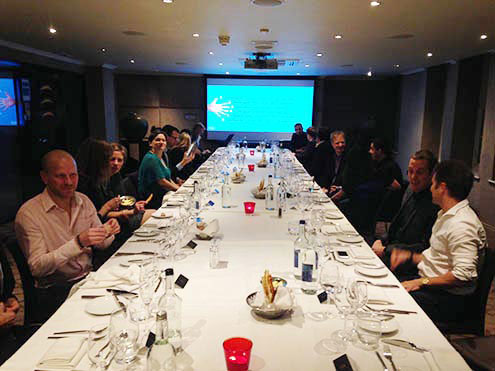 All the speeches will soon be available of the Brandworkz blog so please check back if you want to learn more about what was discussed during the evening.
After the speeches, food, drink and conversations flowed. I personally spoke with entrepreneurs and marketing technologists who provided me with great insights about other areas of the vast marketing discipline. After dessert, we retired to the May Fair bar for a few delicious and expertly prepared cocktails to round off a great evening.
To all those who attended our 'Dine and Learn' event we would like to say a big thank you; your attendance and input were greatly appreciated. To Ben Norton of ICP and Mark Gallon of Differentia, we say congratulations on delivering very insightful speeches and thanks for helping to make a great evening possible.
Please stay tuned for our next evening event.
Find out more about Brandworkz Brand Management Software