Brandworkz, the specialist provider of brand management software and digital asset management is to launch its latest Showcase module, at leading technology show, TFM&A on 26 & 27 February 2013. TFM&A is held at Earls Court 2, London.
Brandworkz is launching its Showcase module to act as a hub within its brand asset management software, allowing marketing teams within a global company to get together online across geographies, regions or time zones to share new campaigns and learnings.
Marketers upload and submit their best marketing or brand campaigns into their digital asset management or brand management system to be viewed and even reused by their marketing colleagues in different offices.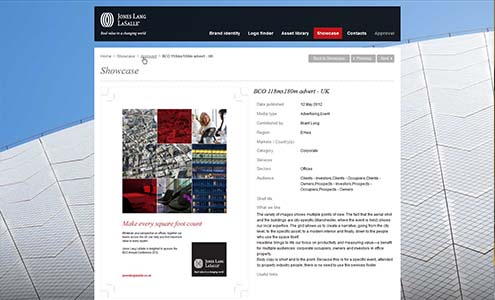 One click into the Showcase reveals the featured campaigns. A large format image for each is showcased along with associated campaign materials, a description of the work, contact details for the marketer responsible and even a download button to access the original artwork.
The Showcase integrates with Brandworkz Workflow & Approval so that the process of submitting artwork for approval and inclusion can be fully automated with a configured workflow. One or multiple approvers can also be part of the workflow, meaning artwork cannot be uploaded into the Showcase module without the approval of these key people.
Jens Lundgaard, Founder and CEO of Brandworkz says "Promoting the most successful marketing materials to your internal brand community encourages higher standards. Work can be used again by other markets, making costly duplication a thing of the past and the brand can be strengthened by allowing brand and marketing managers across your business to ask questions of each other and make suggestions about how to do things better."
Brandworkz will also be demonstrating their other features including Digital Asset Management, Web-to-Print and Online Brand Guidelines at TFM&A.
The Brandworkz team can be found at stand D50.