In software release 6.3, we have focused on how Brandworkz can improve marketing processes, giving our clients the ability to adhere to brand and industry compliance rules in an automated way, reducing dependency on manual processes. We have also given certain sections within Brandworkz a UI overhaul to improve the overall look and feel of the system. All this plus numerous speed and usability improvements.
New Feature: Asset alerting
This valuable new feature gives your users regular and timely information about changes and updates to assets in your Brandworkz brand asset management system. This means users can make adjustments to marketing materials and keep their communications compliant, up-to-date and on-brand at all times.
The Asset Alerting feature will notify your users about:
New assets available in the system(this is permission-based so users only access what they are allowed to see)
Updated assets which the user has previously downloaded
Expired assets which the user has previously downloaded
This information is available in a weekly automated email which shows thumbnails of the assets, quick links direct to the specific assets and folders, and the date on which the asset was uploaded or updated. In addition, users see a list of assets due to expire in the following week.
This is a paid-for feature.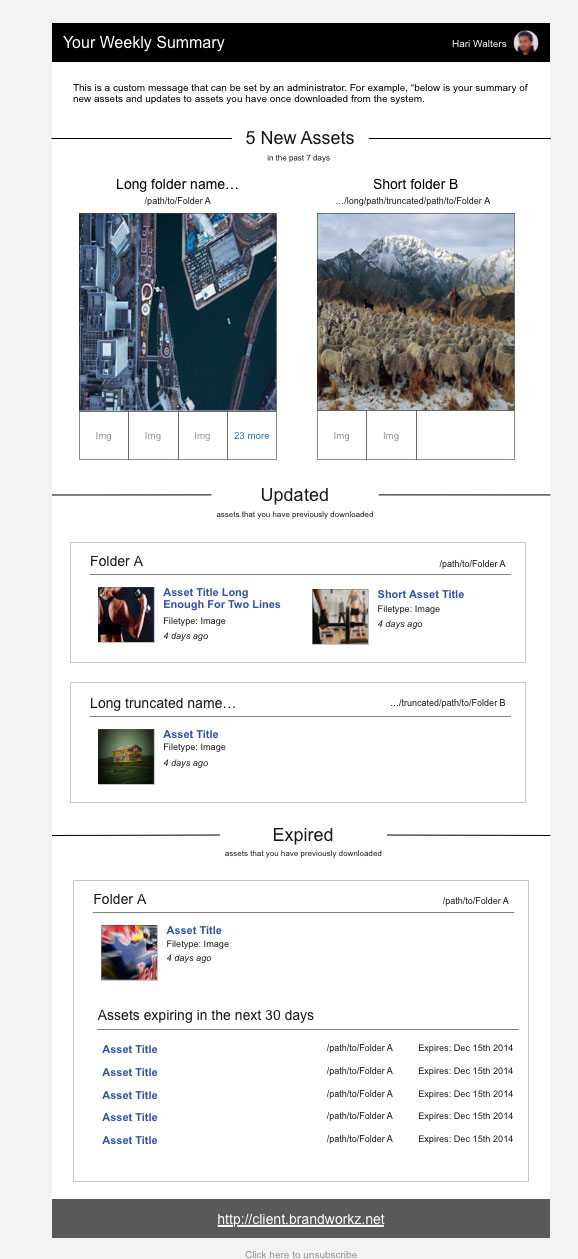 New feature: "Download reason" reporting
The reporting feature of Brandworkz digital asset management has been strengthened with a new report which identifies the reason why an asset has been downloaded.
A client can add one or many fields requesting information like download reason, usage location, sub-brand etc to the download screen (according to the level of detail they need for their business) which offers a selection of dropdown or text areas for the user to complete. A client may even include a Terms & Conditions radio button.
This is a valuable feature for clients in heavily compliant industries such as Finance and Insurance as it enables administrators to manage where and why images and documents are being used.
The report for each asset can be accessed on the Asset Detail page.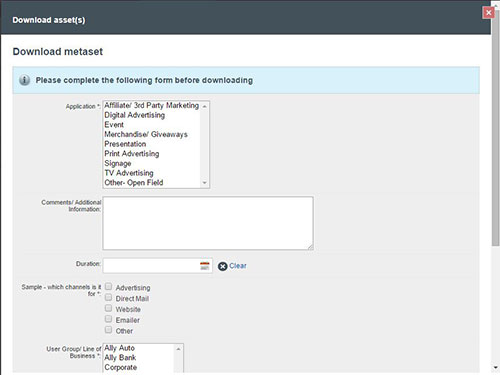 Improvement: Admin page overhaul
The admin page UI, used by superadmin and other administrators has been improved and simplified particularly around tables within the section. Content within a table can be searched instantly and columns can be sorted alphabetically or numerically. The amount of content displayed can be controlled to so the user can choose to see only what they need.
Various admin sections such as meta-sets and language options have been given a uniform approach and simple design.
Improvement: Visual thumbnails/previews of MS Office files
We are now displaying visual thumbnails for MS Office files. Similar to the thumbnails for Pdf's in our last release, users will be able to review an entire MS Office document, page by page, from within the browser without the need to download it.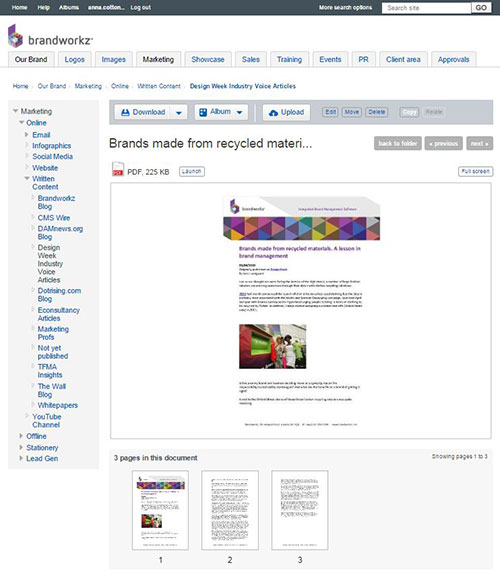 Improvement: Process and speed improvements
Numerous speed and usability improvements
What's coming in the next release?
Here are a couple of the things we are working on which will be in an upcoming release:
CMIS integration which will make Brandworkz the central content hub for your marketing ecosystem
Asset viewing improvements
Bulk download functionality
Click here to find out more about Brandworkz brand management system