There has been phenomenal growth in the martech landscape which is changing the way marketers are buying and using software. Martech 'stacks' are being built; clusters of integrated technologies that enable users to perform, analyze and improve marketing initiatives.
One of these changes has been a shift in focus from simply promoting brands to delivering excellent customer experience. Right through the customer journey from how your customers find your brand initially, to the interactions with your content and social media, telephone or face-to-face conversations with your people, the purchase and finally the ongoing customer service or experience post-purchase, every stage of the customer relationship is crucial. Martech tools need to be connected so that they can function in a unified, real-time way to facilitate the customer journey.
Creating a powerful martech stack requires careful evaluation of software tools, features and capabilities but also a deep understanding of how the tools and applications will be used together.
However, there is one marketing platform that, in order to make the stack operate effectively, is a must-have.
It's the Brand Management System (sometimes called a Digital Asset Management System) that sits at the heart of the marketing ecosystem.  It's the central content hub, the single source of brand assets, campaign elements and brand guidelines. It feeds out approved, brand-compliant content to the myriad of other marketing systems, ensuring that every piece of communication is on-brand and consistent.
The diagram below shows how a Brand Management System connects the dots between marketing departments and software platforms making sense of data, efficiently using digital assets and building a collaborative team.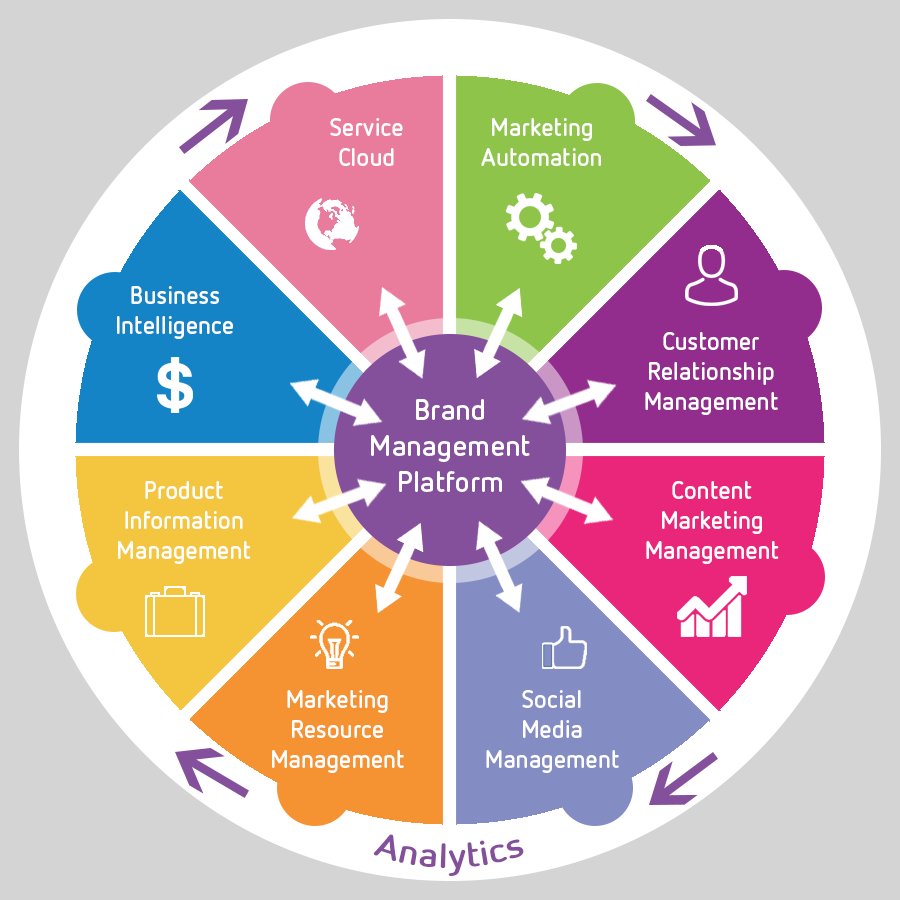 Here are a few more reasons why a brand management system will transform the way you organize your martech stack.
1. A single digital asset distribution centre
Every brand asset (think logos, images, videos), every campaign, every advertising layout or template, presentations, documents, TV ad is approved, stored and managed in one place, in the cloud. When there's a complex martech stack, it is crucial to ensure that all systems are supplied with authorised digital assets, in an automated way.
2. A flexible system
Each integration accesses only the images or materials required by the connected platform. For example, an integration with WordPress, the web CMS technology, would only allow images in the Brand Management System approved for web to be available in WordPress, or to the web team themselves. The CMO can decide which team has access to what content. The key is that team members can take the initiative in finding the right materials they need without constantly sending requests to the CMO.
3. More effective and efficient working
A brand management connector to other martech systems means it is possible to load files directly from the brand management system straight into whichever systems or products the business uses. Having these files available for marketers and creatives within the tools they use every day allows them to work more effectively and efficiently.
4. No more duplicating assets
Once an approved digital asset is uploaded to the brand management tool, the same asset is called through to every marketing platform it is allowed to be used in. For example, if Hootsuite is used for social media management, the images, videos and templates required in social media channels will appear in Hootsuite automatically. No need to download and re-upload. This solves a huge image management and brand consistency problem. Without brand management tools, everyone one of your martech platforms will hold a version of a master artwork. If one needs to change, does everyone remember to update with the correct version?
5. Every platform gets the most up-to-date digital assets
Upload a new version of an asset to your brand management platform and the changes will be reflected instantly in the platforms and different media channels where those assets are used.  It's only necessary to update one master artwork, and the image is pulled across in the right format and size for each channel.
These benefits are just a few of the benefits of adding brand management tools to your martech stack. For more details, drop us an email at info@brandworkz.com or ring us +44 (0)20 7288 9700 to find out how to integrate this platform into your existing system.