Baker Tilly is a full-service accounting firm comprised of 126 independently owned member firms, with 746 offices across 145 territories. With over 34,000 staff and income of $3.64bn in 2018, Baker Tilly is the 10th largest accounting business in the world.

Baker Tilly Brand Hub Stats
Logins in the first six months
Downloads in the first six months
Artworks created in the first six months
Artworks created in the first six months
As a growing membership network, Baker Tilly realised that many of the member firms were still retaining their old brand identities even long after joining. One of the key issues was that this lack of cohesion and consistency was holding back their ability to effectively compete with the "Big 4" accountancy firms when it came to global contracts. They needed a Digital Asset Management System.
The fragmented brand also meant that Baker Tilly was not optimising their marketing efforts: each of the firms was having to create their own materials and assets. Time and, importantly, cost was being duplicated on a global scale across the 746 offices, with the inevitably inconsistent marketing messaging further compounding the perception of a disjointed operation.
In 2018, Baker Tilly undertook a global brand refresh to unify the network under one name and new brand identity. The next big challenge: how do you roll out the new visual identity to 746 offices in a tight timescale and a cost-efficient manner while engaging and exciting 30,000 employees about the new brand?
In order to facilitate fast global roll-out and seamless adoption of the new brand identity – and allow centralised creation of consistent marketing collateral – Baker Tilly conducted an extensive selection process, looking for best-in-class brand management software with integrated web-to-publish capabilities. The answer: Brandworkz!
The new Baker Tilly "Brand Hub" is more than just a home for the Baker Tilly brand assets. The system is designed to enable true marketing collaboration across teams and territories, allowing sharing of best practice and new ideas whilst minimising duplication of effort and resource. The team tell us that the brand management software has fostered a genuine sense of community and being part of a truly global marketing team.
The rollout of the new brand identity to 746 of Baker Tilly offices worldwide in an eight-week period.
Significant cost savings in the brand rollout and an expected ROI of 3,000% over three years.
Employees throughout the business are engaged with the new Baker Tilly brand identity.
Increased marketing collaboration between member firms and territories.
Empowered marketing teams from smaller member firms by allowing them to feel part of a much larger team.
Baker Tilly brand now positioned to compete more effectively against the "Big 4".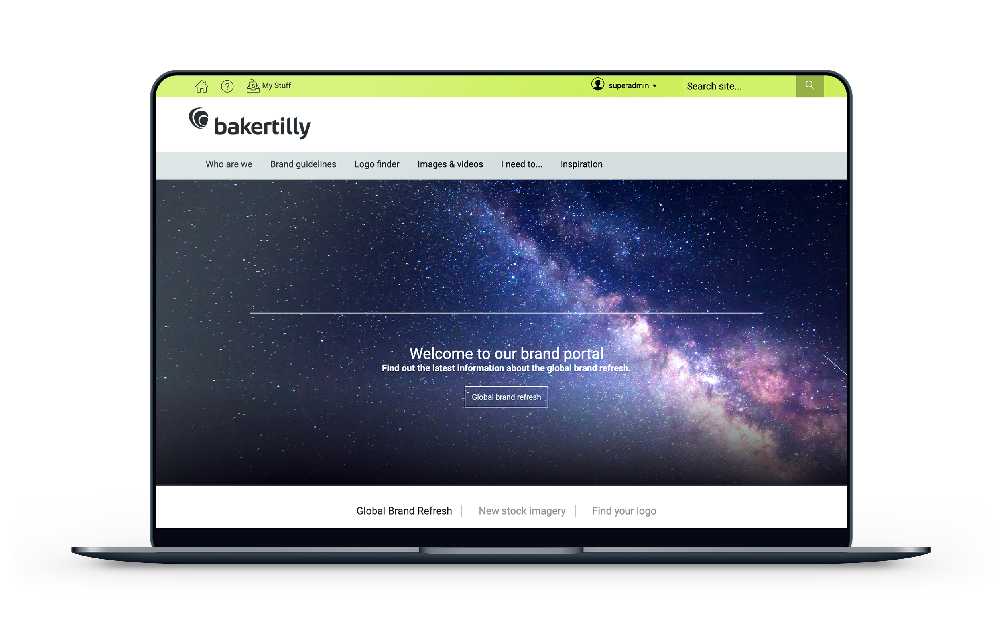 "Smaller firms within the network have been empowered. They are saving money, and they can achieve more… we are seeing greater marketing activity and greater collaboration. Baker Tilly is moving to a position much more aligned to the Big 4 now, and the Brand Portal is absolutely facilitating that."
Jo Luck, Brand Manager, Baker Tilly International