Higher education deserves higher brand consistency
The University of Greenwich is a public university that was founded in London in 1890. The university currently educates over 19,000 students across their three campuses which include the Old Royal Naval College which is on the banks of the River Thames and was designed by Sir Christopher Wren.
Greenwich – the very name resounds with significance, from its great naval and royal connections to its historical stewardship of Greenwich Mean Time, on which all international time is based.
Not a bad start in branding terms!

University of Greenwich Brand Centre Stats
Artworks created per year
The university's marketing and brand teams were spread across multiple different offices which made ensuring brand consistency difficult. Add to that the fact that their content must remain consistent for at least two years while students are deciding where to study and you have a big brand consistency challenge. The university was also looking to reduce its print production costs and to relieve the bottleneck that had developed at their small design team.
Brandworkz created a unique solution that integrated two of the university's most important data sources, Squiz their web content management system and Banner the central repository for approved, regulatory compliant written course text. These seamless integrations automate the process of gathering all relevant text for any particular degree course and feed the information into multi-page dynamic templates within Brandworkz Web-to-Publish.
Increased brand consistency across web and print course materials
Improved production processes and vastly quicker time-to-market for new materials in their digital asset management system, the creation of new artworks can now be done in minutes rather than days
Removal of design bottlenecks and reallocation of resources away from simple design changes
Cost reduction in the production of new and existing course materials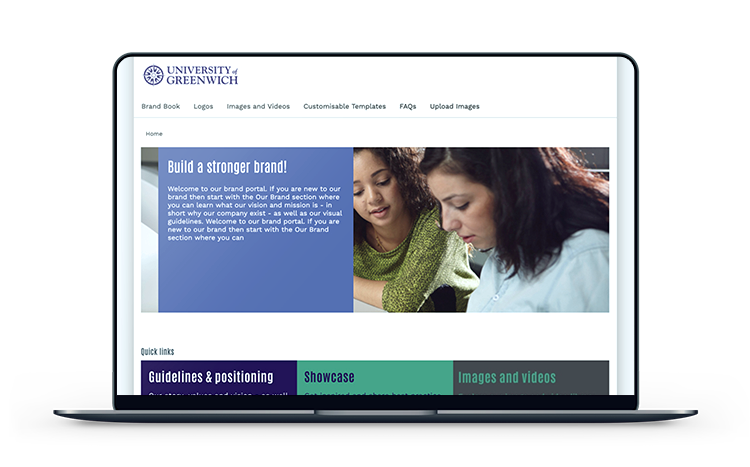 "Essentially, we have a single source of written and photographic media – all our written copy and photographic content now sit within Brandworkz for the whole university."
Robert Mayor, Director of Communications, University of Greenwich