Find out what your brand is
doing online
Want to know every usage of your brand elements in the real world? Brand Insights in Brandworkz Brand Management Software does just that!
Our industry-leading, AI-powered bots will scour the web and all your documents to ensure the correct usage of your brand assets. All with the click of a button.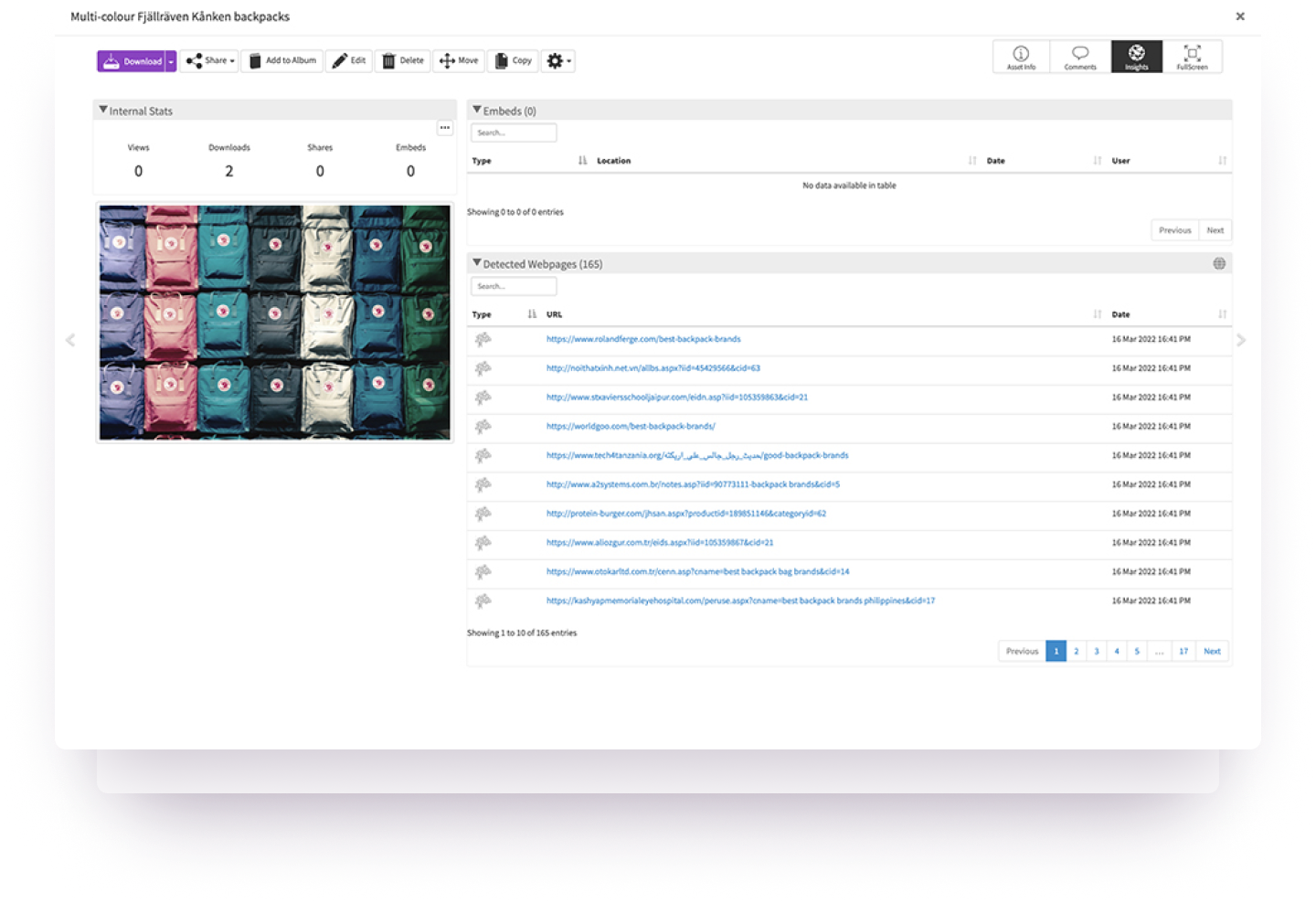 What can Brandworkz Brand Insights do for you?
No more nasty surprises
Images are a powerful tool that helps brands stand out from the crowd. They can also do severe damage to a brand's reputation if misused. Brand Insights gives you an overview of your images and logos everywhere. You can identify the websites where your brand should not be seen and take the necessary steps to get them removed.
Have I seen that image somewhere before?
Stock image websites are great; they give users access to high-quality images at a low cost. Image sites have become so popular that it is not uncommon to see an image from them used on hundreds of sites simultaneously. With Brandworkz, you can run any stock image through Brand Insights to check if it is in use by any rivals before committing to using it.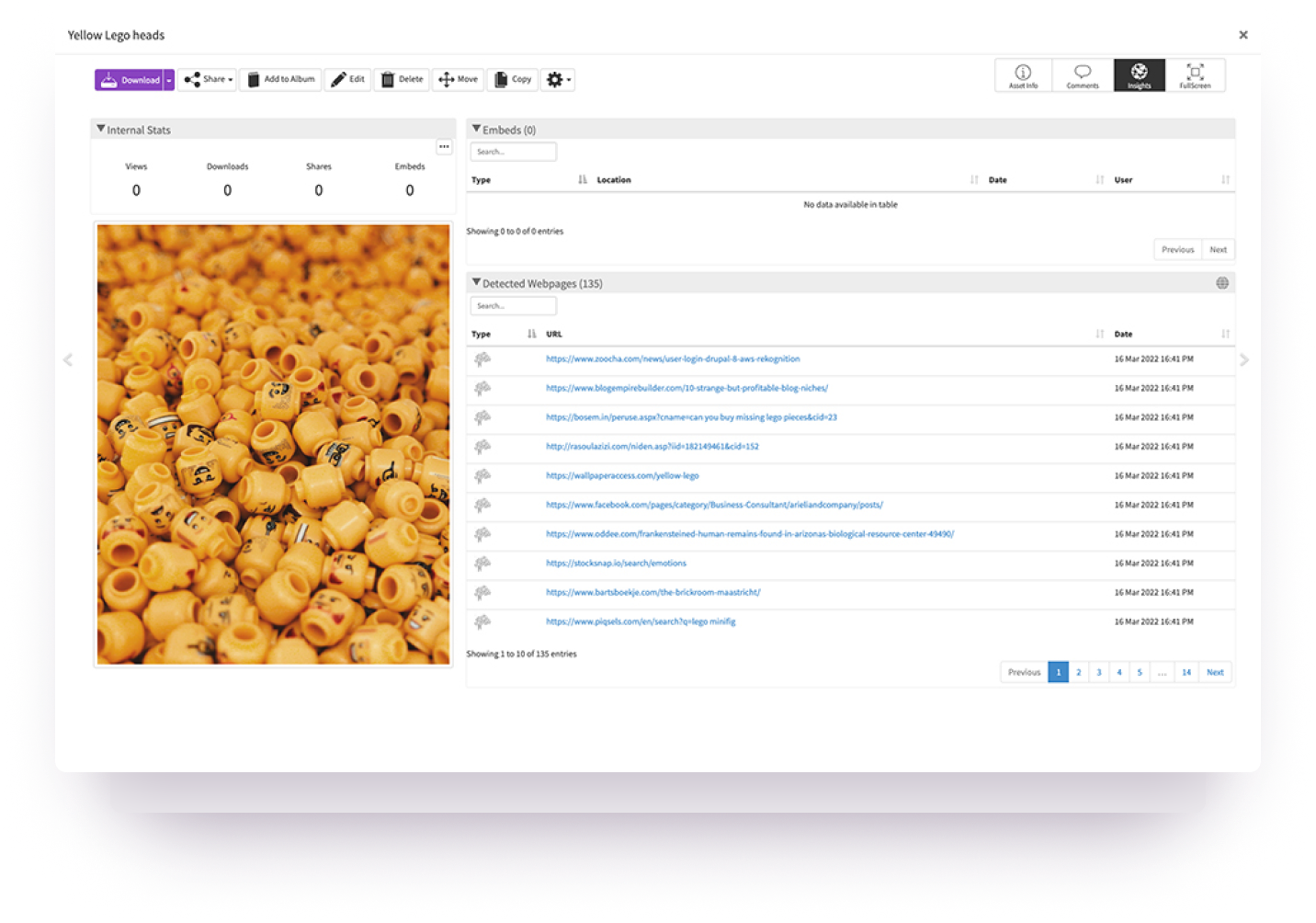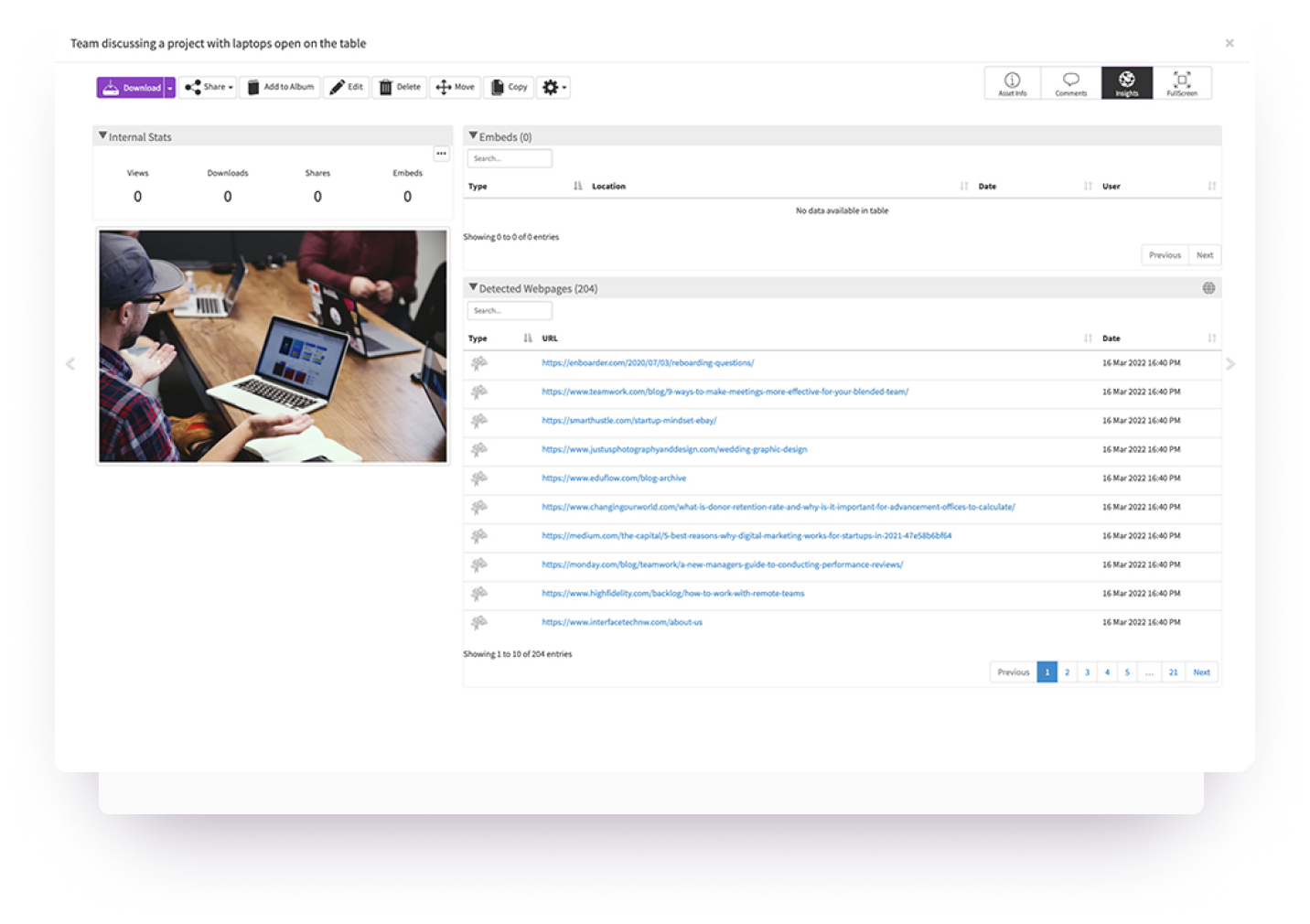 Be kind to your logo
Your logo is your number one brand asset! But logos are tricky; misuse is common due to the many different versions, file types, and iterations. Brandworkz Band Insights can identify everywhere your logo is being used across the web and in documents, so you can rest assured the suitable logo is being used in the right place.
Rolling out a rebrand
If you have ever taken part in a rebrand before, you will know that the real work starts after the fun design phase, when the rollout begins. How do you go about tracking down every instance of the old brand to ensure brand consistency? Brandworkz Brand Insights is here to help! Upload your old brand assets into Brandworkz and let our bots track down the out of date logos and produce a list of content that needs updating; it's as easy as that!
Join 100,000 marketers already increasing revenue by 33% with a consistent brand.
Brandworkz combines powerful Digital Asset Management and next-level integrations for a single source of truth where users can store, manage, share, and create brand assets.
Explore more brand management products
Our advanced DAM sits at the heart of Brandworkz and provides you with a single solution for all of your storage and access needs.
Track, audit and approve new assets with the same tool you use to store and access those files. Streamline workflows and improve consistency.
Make sure everyone's on the same page with editable brand guidelines integrated directly with your DAM and approval workflow tools.
Let everyone find the right logo, every time with the click of a button. Cut out endless and tedious requests while ensuring consistency.
Show people what good looks like and stop them reinventing the wheel by promoting best practice.
Make better decisions from insights into your brand assets, people and processes.