This week we held our Q3 User Group Meeting for our UK clients at our neighbouring gastropub, the Pig and Butcher. Thank goodness for friendly neighbours prepared to let us use their space, as it was the hottest day of the year thus far and we had too many clients to host the meeting in our original venue!
It was a welcome problem as Brandworkz has seen substantial growth over the last year. We were excited to have our most recent clients, Brother, TDSi, British Council and Rathbones present and as always lovely to see some of our older clients with, amongst others, JLL, International SOS, Maersk, d&b audiotechnik and Imperial College.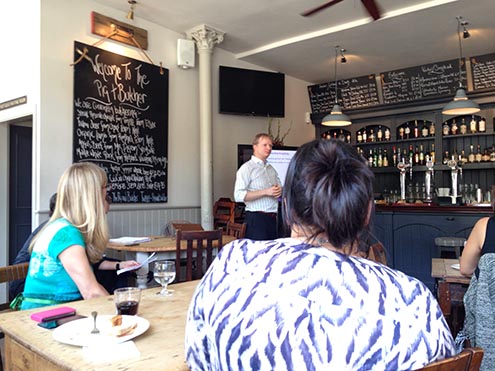 Over the last few months Brandworkz has been going through a repositioning process. CEO and founder, Jens Lungaard shared with our clients our redefined positioning and values, making clear how we will ensure that the software, our business processes and client communications adhere to them. He also shared the company's vision and roadmap for the next three years, giving clients an exciting preview of how Brandworkz will evolve.
We had two presenters from our client services team Raj Jolly, head of the team and Matt Nicholson. Matt demoed a great new feature which clients got in the last release, the Order Widget, which enables an end-to-end ordering process for merchandise, printed materials or any other stock items which employees need to order. Matt also demoed some great new improvements and features from the forthcoming release 6.2, to get clients excited about what's new.
Raj showed what's coming up a little further out in this year with new features which will be in 6.3 such as improved on-artwork annotation for images, videos and documents and the new file management and delivery of assets within Brandworkz digital asset management.
Our Head of Development, Andrew Twitchett, demoed our most exciting new feature, CMIS integration meaning Brandworkz users will be able to access their Brandworkz folders and files anywhere, including on mobile devices, tablets, desktops and web applications as well as integrate with their other marketing platforms.
That evening, we ran the User Group again, this time by webinar for our clients in EMEA and USA with representatives from companies such as Charles Schwab, Brother, Aon, Enactus, Turismo de Canarias, Aetna and Kaefer joining us for the session.
We are very excited about the new features at Brandworkz. We hope our clients found yesterday informative. We had a great day as it's always nice to get to know them better and to spend some time getting direct feedback.
Click here to find out more about Brandworkz brand management software