Visionary brand management right down the line
We're all very familiar with Transitions Optical's adaptive lenses that automatically darken, shading the wearer's eye as light brightens. However, though the ever-innovative Transitions brand has been advertised widely on television for some years, the company doesn't actually sell direct to end customers. It promotes and sells indirectly through its partner sales supply chain.
This consumer-focused emphasis has recently been reinforced further by the acquisition of Transitions Optical by French company Essilor. But perhaps the most striking feature of the merger has been the development of an innovative new business structure. Gone is the traditional sales force; now brand and sales momentum is driven by a powerful Brand Asset Management System.
They call the system Transitions Hub, an external facing platform used to promote the Transitions brand message and provide marketing materials downstream to eight global lens manufacturers. These businesses, in their turn, market the Transitions brand to the retailers, opticians, eye care professionals and laboratories that sell to end consumers.
Designed and supplied by Brandworkz, Transitions Hub is used to educate and train the lens manufacturers about the Transitions brand and disseminate best practice and knowledge, as well as to share marketing materials. This pioneering Brand Management Platform automates processes, improves efficiencies and saves money. It's no longer necessary to hunt around for marketing materials or to rely on sales people to brief and educate partners.
Though Transitions was already using a Brandworkz platform for internal brand management, the company quite properly also considered a number of other potential vendors in the search for the right system. But they were glad to identify Brandworkz as best choice.
Francesca Puglisi, Global Marketing Manager/New Media at Transitions Optical is in no doubt about the value of the Brandworkz solution: 'It's so flexible,' she says, 'it can be used for multiple purposes. The Hub has been made high priority in order to be a sales enabler and brand builder in the absence of traditional sales teams. It's more important than ever.'
The Hub's structure enables each of the eight lens manufacturers to log in to its own area of the site that's uniquely co-branded as Transitions plus partner brand. Only the co-branded marketing materials that are relevant can be seen and downloaded, so there's no confusion about which collateral can or can't be used and no risk of human error. These pages, effectively owned by the partner, can be branded, customised and then accessed by the retailers that the manufacturer supplies.
'Brand training, education and marketing materials is a major way of getting our marketing collateral used by retailers at the point of sale,' says Francesca. 'The Hub makes the industry aware of everything we're doing, so our marketing messages get direct to consumers via our lens manufacturer partners.
'Some eye care professionals are modernising their marketing and starting to embrace digital, but they need guidance on how to do it. So, for example, if they want to use social media to communicate with customers, we provide co-branded social media marketing assets in the Hub to help them.
'What we love about Brandworkz is that so many different file types – multi-page Powerpoints, PDFs, word documents, sales sheets, videos and so on – can all be viewed in the platform, page by page, without the need to download them first. It's so easy!'
Transitions Hub's most conspicuous gain to date, says Francesca Puglisi, is in the brand being represented consistently to consumers across the globe. 'We've learned that if your customers want to push your message and you don't give them the materials they need, they'll simply create their own. These may not be consistent with current messaging or campaign objectives and may not be making the most of the best practice and research we have available as a result of doing it for years. The Hub allows us to share that knowledge.'
And since manufacturers and retailers can now self-serve brand stories and positioning information as well as marketing content the other major gain is in efficiency. Francesca also expects to be using the Reporting feature widely to establish who is using which materials. That way, central marketing can understand which collateral different partners are using and create more of what they need to support them, enhancing relationships into the bargain.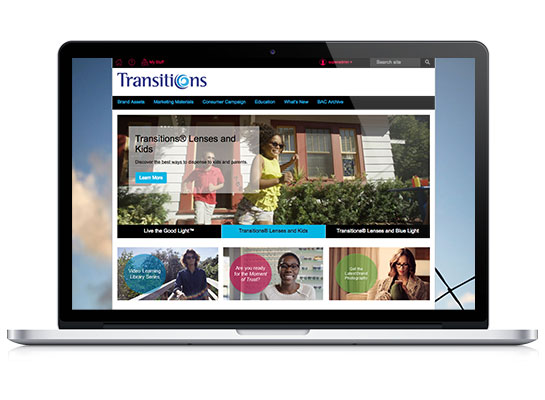 "Brand training, education and marketing materials is a major way of getting our marketing collateral used by retailers at the point of sale, The Hub makes the industry aware of everything we're doing, so our marketing messages get direct to consumers via our lens manufacturer partners."
Francesca Puglisi, Global Marketing Manager at Transitions Optical